On Sat, 18 Aug 2012 21:24:28 -0500, Jim Yanik wrote:
I have to say, refilling the HP 3200m laser printer is as KISS as it gets!
1. You buy the soldering iron hole-melting tool (optional). 2. You buy toner at the same time (about $5 for 250 grams). 3. You melt the hole & pour in the toner. 4. You put scotch tape over the hole!
Here's a picture of my refill yesterday, in fact: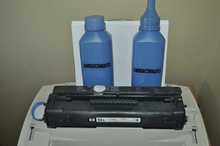 The 'white' circle is a bit of finesse ala' alt.home.repair hints. I scotch tape the white plastic top of an orange-juice pull-out over the melted hole. Voila!
Total costs for, say, five years toner is something like: a) Original HP C4092A (92A) cartridge (about $40) b) Refills about every six months (about $5 each) c) Empty used-once cartridge every 2.5 years (about $5 each)
Because of the ease of refilling, I LOVE my HP 3200m laser printer! Because of the cost of refilling, I will NEVER buy an HP inkjet or officejet printer ever again for the rest of my life!
Of course, if I go 'color', I'm assuming the refilling of the color laser printer will be as simple as the B&W is currently.
On Sun, 19 Aug 2012 12:16:07 +0000, J.G. wrote:

I just realized that the color laser printer 'might' not work for pictures at home!
Here are some articles I'm reading, to determine if it can: Laser Vs. Inkjet Printer (http://www.buzzle.com/articles/laser-printer-vs-inkjet-printer.html )
Should Your Office Buy an Inkjet or a Laser Printer? (http://www.pcworld.com/businesscenter/article/226497/should_your_office_buy_an_inkjet_or_a_laser_printer.html )
Laser vs. inkjet printers: which is better? (http://www.pcworld.idg.com.au/article/354659/laser_vs_inkjet_printers_which_better_ /)
Inkjet Versus Laser Printers (http://www.smallbusinesscomputing.com/testdrive/article.php/3521141/Inkjet-Versus-Laser-Printers.htm )

posted on August 20, 2012, 10:08 pm
On Sun, 19 Aug 2012 14:03:33 +0000 (UTC), "J.G."

Yeah, when I was working I went thru several color laser printers with the idea they would be able to do color photos better then the "expensive" inkjet process. After wondering why the printed photos weren't all that good I came across similar articles to your links. Based on my past experience, if all you want to print in the way of color photos is stuff to place in a work file to document <whatever> then the color lasers are fine for that. Or if you just want to be able to quickly and easily print color flyers with action photos for your Rock Band's upcoming concert the lasers are great for that. But if you want to print a really nice copy of Antie Ems's 101 birthday party and see the sparkle in her gray hair you won't be happy with what you get from the laser color unless you buy a very expensive one and use the proper glossy paper. At that point they have lost any advantage over inkjet cost.

posted on August 20, 2012, 10:22 pm
On Mon, 20 Aug 2012 15:08:43 -0700, Ashton Crusher wrote:

I'm slowly coming to the following hard-won realization, much to my chagrin, regarding printing color photos at home:
0. B&W laser writers (such as my HP 3200m) are trivial & cheap to refill 1. Most color laser writers are also trivial & cheap to refill. 2. However, color laser writers stink at printing pictures at home!
Given that, we are FORCED to look at ink-based printers: 0. IMHO, all ink-based printers from HP are to be avoided at all costs! 1. Kodak/Canon/Dell ink-based printers 'may' be a viable alternative. 2. The key is to buy the printer based on the ease of "replacing" the ink!
Drat! Color lasers, which are the subject of this task, are slowly dropping off the radar screen ... and the dreaded ink-based printers are rising up, again.
Why is finding a decent printer to print photos at home at a decent price such a miserable process? :(

posted on August 20, 2012, 10:33 pm
J.G. wrote:

Gosh to you remember what it cost to bring in a roll of film for processing? You had to drive both ways, and maybe make a phone call to see if it was ready? And you had to wait a few weeks to see pictures of your thumb! The good old days, huh? : )

posted on August 20, 2012, 10:40 pm
On Mon, 20 Aug 2012 22:22:09 +0000 (UTC), "J.G."
It's supposed to be. Walgreens and others spend many $thousands for photo printers. They print photos cheaper than ever because of volume. Probably gave their business analysts and purchasing departments many miserable days. I rejected home photo printing out-of-hand by looking at costs. Didn't want to get miserable.