On Sat, 18 Aug 2012 21:24:28 -0500, Jim Yanik wrote:
I have to say, refilling the HP 3200m laser printer is as KISS as it gets!
1. You buy the soldering iron hole-melting tool (optional). 2. You buy toner at the same time (about $5 for 250 grams). 3. You melt the hole & pour in the toner. 4. You put scotch tape over the hole!
Here's a picture of my refill yesterday, in fact: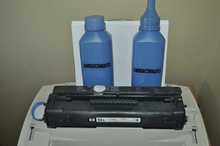 The 'white' circle is a bit of finesse ala' alt.home.repair hints. I scotch tape the white plastic top of an orange-juice pull-out over the melted hole. Voila!
Total costs for, say, five years toner is something like: a) Original HP C4092A (92A) cartridge (about $40) b) Refills about every six months (about $5 each) c) Empty used-once cartridge every 2.5 years (about $5 each)
Because of the ease of refilling, I LOVE my HP 3200m laser printer! Because of the cost of refilling, I will NEVER buy an HP inkjet or officejet printer ever again for the rest of my life!
Of course, if I go 'color', I'm assuming the refilling of the color laser printer will be as simple as the B&W is currently.