On Thu, 04 Feb 2016 15:46:46 -0700, Don Y

I had a whole tree like that a couple summers ago. It was still attached at the ground, but 25 feet of trunk went over my back yard, about 8 to 9 feet high.

Well sure. I only owned a small electric chain saw because one was for sale at a yard sale, but I've used it a lot. They're now designed so both hands have to be where they are safe, and if you put safe holding first, and safe climing the ladder a step or two second, I don't think you'll have more trouble than I did.
I spent quite some time deciding where to cut first, so when cut one half of the trunk wouldn't spring up out of my reach, and the other half wouldn't fall down on my bushes.
I have an aluminum 6' step ladder and only had to go up two steps if I also held the saw above my head. 4 steps, I could have held the saw straight out, but the first choice seemed better. If I had someone to hold the ladder, maybe it woudl have been the second choice. .

The saw I happened to buy is one size larger than the one that comes with a pole attachment. In fact the handles are the same and I could attach this one to a pole, but I don't own the pole and it would really be too heavy as Don writes below. I did borrow it once from the friend of a friend, so that's how I know.

Not only that, but I woudlnt' be surprised if the blade stops in the wood and the rest of the saw goes back and forth instead.
Since a chain saw goes only in one direction, pulling the saw away from you, you just have to hold it back and it cuts.

Of course his limbs are already broken off.


On Thu, 4 Feb 2016 14:21:40 -0800, "Snuffy \"Hub Cap\" McKinney"

The electric pole mounted chain saw I bought from Princess Auto for $70 a number of years back was one of the best tool purchaces I ever made.
A ricip on the end of a 2X2 aluminum angle is just an accident impatient to happen. They jump around enough when held close to the body with 2 hands.

posted on February 5, 2016, 8:35 am
On 2/4/2016 3:14 PM, snipped-for-privacy@snyder.on.ca wrote:

I have an aluminum logger's gaff about 20 feet long. I duct taped a trimming saw onto the end and used it to trim some high branches. That was three years ago and my shoulder still hurts. The joints apparently didn't like the angle of the force.
I got an electric trimming chainsaw on the end of a pole. It's extremely unwieldy because the motor is on the end of the pole. You need to cut the branch from the top side. But you can't do that with a typical pole saw. When you cut from the side, the chain binds up as the branch bends.
I'd recommend one with the motor on the close end of the pole and a shaft that runs the saw on the far end.
You can buy a chain with a rope on each end. You throw it over the branch and pull on the ends to saw the limb. I figgered it wouldn't work, but I found one at a garage sale and tried it. I was right. It's impossible to make the chain saw. All you do is pull on the limb and it flexes down. You can have mine for free if you climb the tree and get it unstuck from the tree.
If you can climb up the tree...and have all the safety gear to do so, you can cut limbs from above. My problem was that all the ones that needed trimming would have to be cut from below. I wouldn't risk that.
Then there are the limbs that would crash on the house if you cut at the trunk. You'd need to climb out on the limb and cut it into multiple chunks. I decided it was better to risk a limb falling on the house than me falling on the ground.
I did one stupid thing. I leaned my longest extension ladder against a limb and proceeded to cut off the far end. When the branch fell, the limb flexed up and off the end of the ladder. I was extremely lucky that there was another limb close enough to catch the ladder. I'd thought about the problem beforehand, but seriously underestimated how far the limb would flex.
I guess, in your case, it depends on how far from the trunk you need to cut and how big is the piece that falls off. 10 feet isn't very high. You can do that with a stepladder and a rope thrown over a higher limb to stabilize you. Or lash your ladder to the tree on the side opposite the cut.
BEST alternative is to call a tree service. I accosted one doing some work in the neighborhood. He said, that tree in that location ain't gonna be a problem. But He'd trim it for $400 if I wanted, plus another fee to haul away the wood. I'm not gonna climb a 60' tree. I'm not gonna spend $400 to trim a tree that the expert says ain't gonna be a problem. Fingers crossed...

posted on February 5, 2016, 10:15 am
On Thu, 04 Feb 2016 18:14:06 -0500, snipped-for-privacy@snyder.on.ca wrote:

I have one of those too, and I really like it.

posted on February 5, 2016, 5:23 pm
posted on February 5, 2016, 7:56 pm
On Fri, 5 Feb 2016 09:23:46 -0800, "Snuffy \"Hub Cap\" McKinney"

I dont have it handy to look at the amps it uses. It's a Remington brand. If you got one from HF, it's good you returned it. It would probably be in the garbage by now. HF electrical stuff is pure trash! (Just my opinion, based on past purchases of the crap).

posted on February 5, 2016, 8:02 pm
On Fri, 5 Feb 2016 09:23:46 -0800, "Snuffy \"Hub Cap\" McKinney"
Very similar. Closer to
http://www.lowes.com/pd_738805-70-PP610_1z0wgeq__?productIdP430508&pl=1
Actually I found mine - it is a homelite like this one --
(Amazon.com product link shortened)
posted on February 4, 2016, 11:42 pm
On 2/4/2016 4:21 PM, Snuffy "Hub Cap" McKinney wrote:

I don't know what's best, just want to mention safety:
If you do end up using a chain saw, new ever work from below it, or put yourself in a position where the saw could hit you in case of a "kick back".
I heard of someone killing themselves.

posted on February 5, 2016, 12:37 am

I was not clear. I said I had my arms over my head, but they were also in front of me. Maybe philo woudln't like that either. with a ten-foot ladder, I definitely would have climbed higher and held the saw straight out.
The OP doesn't need a pole saw if they are only 8 to 10 feet high, unless he has no ladder at all.


posted on February 5, 2016, 3:01 am
wrote:
I took down a 40' fichus tree in pieces because there was no room to just drop it. I got a big articulated man lift and cut from the top down. It was really pretty easy and I never felt like I was in any danger.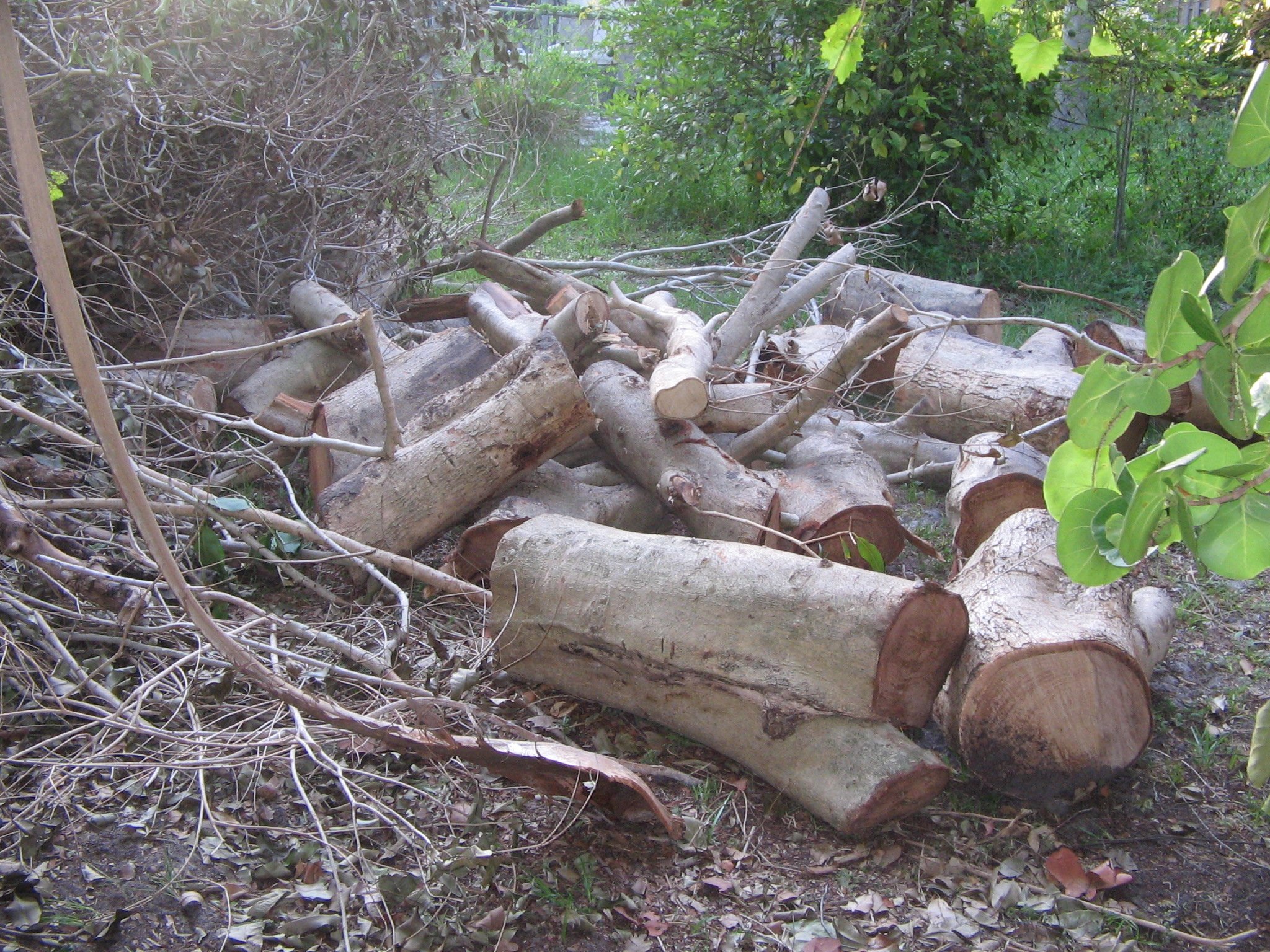 http://gfretwell.com/ftp/Ficus%20down.jpg
I filled a 30 yard dumpster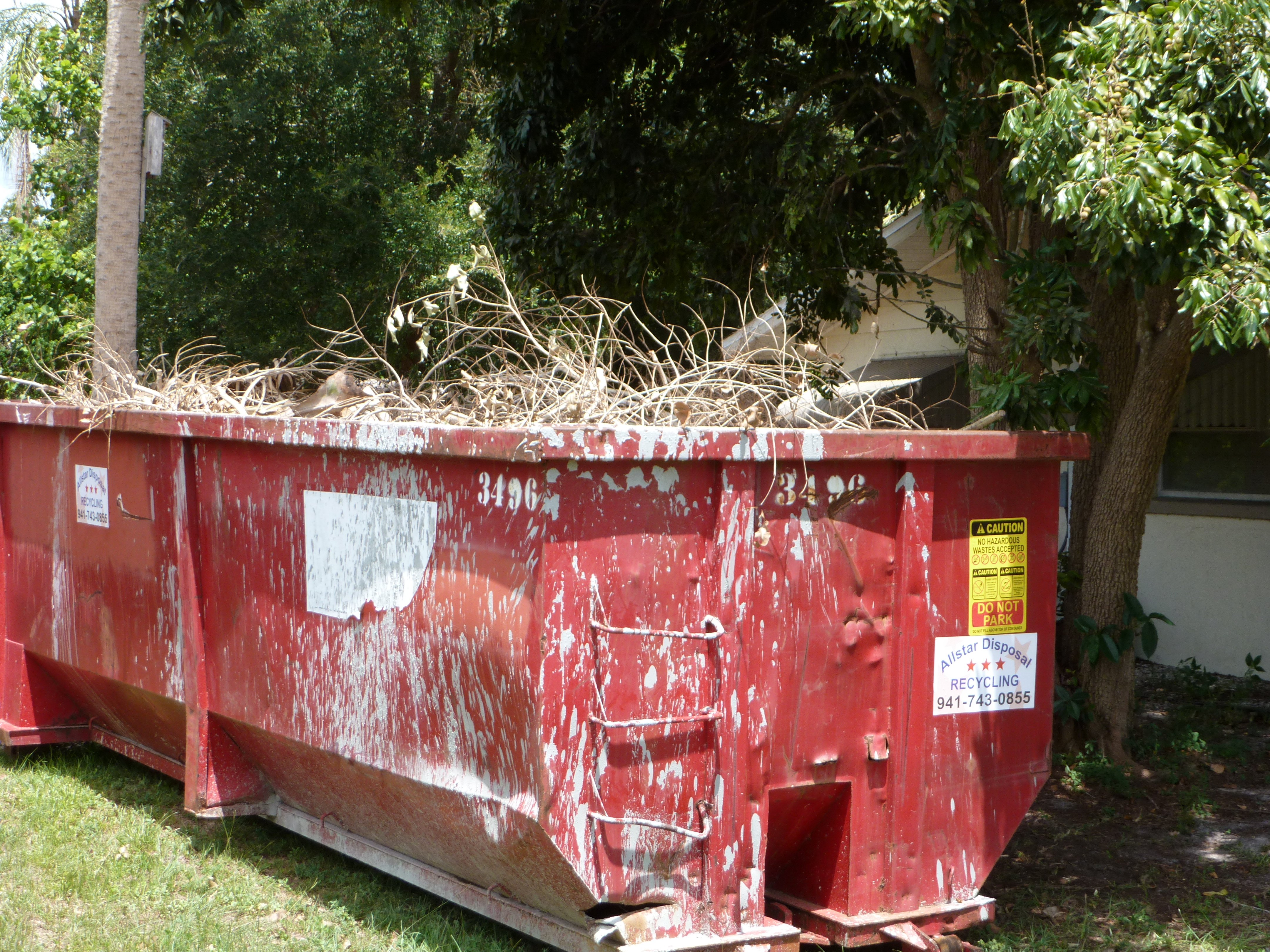 http://gfretwell.com/ftp/Hort%20dumpster%20full.jpg
posted on February 5, 2016, 4:19 am
On 02/04/2016 09:01 PM, snipped-for-privacy@aol.com wrote:

Top down was the smart thing to do.


posted on February 5, 2016, 5:04 am

I took down a 30+ foot cherry tree, all except the bottom 4 feet or so of trunk drom the top dwn with my wimpy electric pole saw and an 8 foot step ladder, and without setting foot in the tree.

posted on February 5, 2016, 5:09 am
On 2/4/2016 11:04 PM, snipped-for-privacy@snyder.on.ca wrote:
Probably no comparison, but years ago we moved into our current house and it had a row of 4 foot holly bushes that we hated in front of the porch. All I had was a pair of rose clippers, and I took down the entire row of holly bushes one branch at a time with those rose clippers. It took me several days to do it all, though.
posted on February 5, 2016, 6:05 am
wrote:

My wife took out about 100 square feet of Brazilian Peppers with her electric chain saw. It took a chipper guy a half a day to chip it all up after we dragged it around front.

posted on February 5, 2016, 4:16 pm
On 2/5/2016 12:05 AM, snipped-for-privacy@aol.com wrote:
Never heard of them, so googled them. Were they the bushy version or tree version (based on the images I saw on google)?
posted on February 5, 2016, 5:22 pm
wrote:

It is a distinction without a difference. The trunks can be 8" in diameter but they tend to lean over and grow into a tangled mess. They will shade out everything below them and take over. Birds eat the berries, carry the seeds in their gut and drop them everywhere in a pile of fertilizer. It is the perfect storm of invasive exotic plants. The only good thing is Garlon kills them easily. (residential version is Ortho "Brush B Gone") You still have to cut them up and haul them away. They aren't even good firewood.

posted on February 5, 2016, 6:41 pm
On 2/5/2016 11:22 AM, snipped-for-privacy@aol.com wrote:
Sounds about as useful as kudzu.