On Fri, 28 Feb 2014 15:36:34 +0000 (UTC), DerbyDad03
I am still not even sure why I bought this. I have a little Prestolite rig that does about 99% of what I need to do but I wanted a bigger rig to cut some big steel last year. It worked fine for that. The hoses went bad in the case since then.
Actually the metal parts (regulators and torches) seem to be OK but these pretty hoses are crap. The Hobart hoses were only $30 so at Northern, if you did end up with a HF torch set, I suggest you throw the hoses away right away. I looked at them closely today and even though they look perfect, if you bend them you see spider cracks across even the slightest bend.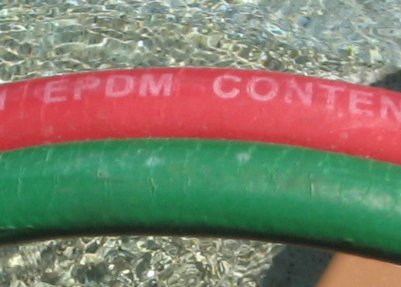 http://gfretwell.com/ftp/HF%20hose%20outside.jpg
I cut one open and you can see the inner hose is totally gone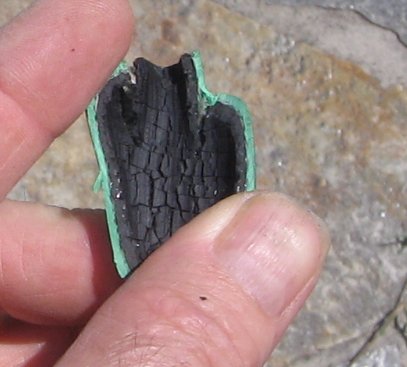 http://gfretwell.com/ftp/HF%20hose%20inside.jpg
I fished them out of the trash and I am going to pursue this a little farther. Since I bought them online, there should be a record of the actual purchase date.
I am wondering if CPSC might be interested in this. There might even be a "silent" recall on these hoses, although I am not sure I would trust the new ones.
On 2/28/2014 10:36 AM, DerbyDad03 wrote:

Or if he can prove it is a material failure that should be subject to recall. That would probably be time consuming and more costly than buying a good set of hoses from a real welding supply house.

posted on February 28, 2014, 11:12 pm
Suggest checking the HF online reviews for anything of significant cost there. They appear to be legitimate and HF does not seem to shy away from posting unfavorable reports. The same issue of hoses being poor quality and having short life is mentioned in many of those reviews.
--
Make it as simple as possible, but not simpler. (Albert Einstein)

Larry W. - Baltimore Maryland - lwasserm(a)sdf. lonestar. org

Click to see the full signature.
posted on February 28, 2014, 3:36 pm

My son bought a set of HF ratchet tie down straps to use with a car top carrier. They were rated for 300 lbs each. That 300 lbs might work for a "hanging weight" of 300 lbs but it says nothing about the "cut strength" of the straps.
He barely made it 50 miles into a 2000 trip when the metal slot on the car top carrier cut through one of the straps. He was driving through a January Polar Vortex snow storm at the time. He ended up emptying the car top carrier, cramming some of the stuff into the cab of his pickup, the rest into his girlfriend's car and leaving the carrier by the dumpsters at a rest stop. He didn't want to deal with it for another 1950 miles, even with upgraded straps.
As we all know, HF has some good deals, but I wouldn't rely on their products for anything really important.

posted on February 28, 2014, 5:56 pm

Why do you say the straps were misused?
The original woven straps that came with the carrier when purchased, and used for many years without incident, have been misplaced. He bought a set of woven straps as replacements and used the same slots as had been used many times in the past.
Where's the misuse?

posted on February 28, 2014, 11:44 pm
On 02/28/2014 07:36 AM, DerbyDad03 wrote:

[snip]
It doesn't take much imagination to figure out that the thin straps (I have a set) are not going to last very long when they are abraded by a metal edge.
For what they are designed to do they work great, but if you're putting any type of strap against a metal edge it is not a matter of if, but when, they will eventually give way.
Jon

posted on February 28, 2014, 6:40 pm
On 02/28/2014 12:16 AM, snipped-for-privacy@aol.com wrote:

One reason for never smoking cigarettes - they mess up your sense of smell.
[snip]