Well, they definitely exist, because my sliding door has one, if I've correctly understood what you are looking for. Here's a pair of pictures of the handle on my sliding door. First, from the inside:
<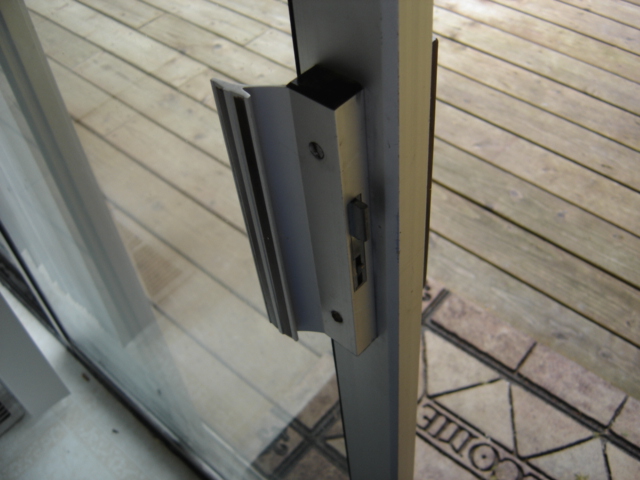 http://www.tzs.net/door/inside.jpg
and from the outside:
<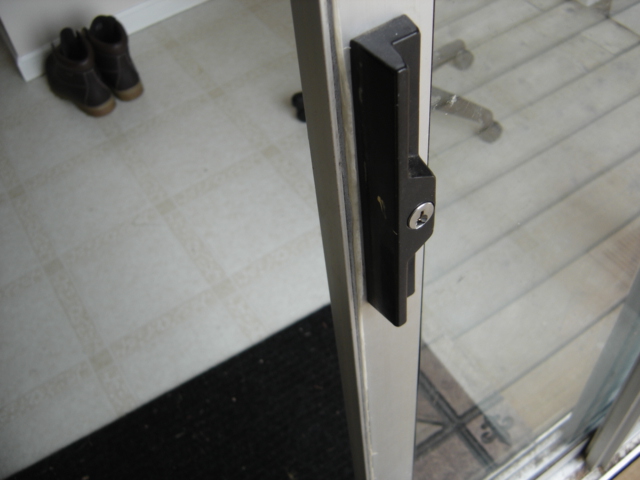 http://www.tzs.net/door/outside.jpg
So, from the inside it is a normal sliding door latch. Flip the lever, and the hook thingy comes up. Slide the door closed with the hook thingy up, it is will latch, so you can lock the door from outside without using the key.
From the outside, it is a normal sliding door handle, except for a barrel lock, which can be used to lock and unlock the door.
And yup, I use it for just what you want to get one for--that's my main entry door.
wrote:

Hi Tim, THAT'S EXACTLY WHAT I WANT!!!!! My door doesn't have a lock on the outside. I've seen a few online, my trouble is that I don't know the "make" of door it is. There's no identification anywhere on it. My door is a wooden door, 1 5/8" thick, the screws are 4" apart center to center. I haven't found a handle/lock assembly that fits that "thick" of a door. I might just have to buy something and try to make it work.
Thanks, Snyde

posted on May 21, 2007, 1:55 pm
snydley wrote:

Google (patio+door+hardware+lock) yields 400,000 hits. Here's one:
http://hardware.hardwarestore.com/73-448-patio-door-locks/keyed-patio-door-lock-617085.aspx
Now this item is designed for the inside, but could be adapted for outside. Anchor it to the frame such that the pin engages the TOP of the door frame.
You may have to abandon the plan to incorporate the lock within the handle. Once you do that, other solutions pop up immediately. Such as a hasp and padlock!

posted on May 21, 2007, 9:54 pm

http://hardware.hardwarestore.com/73-448-patio-door-locks/keyed-patio-door-lock-617085.aspx
Thanks for the response. No, it's gonna be a lock within the handle or nothing. If I have to I'll get a handle that has a lock in it and "adapt" it to fit. I'm not going to butcher my door just to have a lock on it. I've searched Google too, and found a few handles, not quite the right size, but it looks like I'm gonna have to adapt something. My other idea was to call a locksmith and see if they could do something. Probably cost a lot of $$$ that way though. Snyde

posted on May 21, 2007, 10:34 pm

see what I can do for you. We have alot of old parts floating around and I deal with several locksmith supply companies on a regular basis. I'm sure we can find something...
Ed

posted on May 22, 2007, 12:47 am
and I'll

Thanks Ed, I'll do that right now. Snyde

posted on May 22, 2007, 2:05 am

If the pic Tim sent is what you need, It's Primeline #C-1041. This is the outside trim only. It matches your screw spacing, and the tailpiece on the lock cylinder is notched so you can break it off at the length you need for your door. When you send the pic for verification we can track down the exact match inside and out if necessary. I'll be happy to send you what you need, or I can get you in touch with a local hardware store that can help.
Ed