On Mon, 24 Dec 2012 20:15:22 +0000, Danny D. wrote:
Here for the record is how I removed the scotch & spanish broom.
1. The task was to weed about an acre of these weeds:
2. I first got below the weed on the hillside & grasped low:
3. Then I pulled DOWNWARD with all my strength, always downhill:
4. With the ground saturated by rain, the weeds came out:
5. As predicted, the Spanish Broom was the hardest to pull:
6. Some of the plant roots were as thick as a fat thumb:
7. However most of the thousand of plants pulled had thin roots:
8. And now the muddy hillside is devoid of the weed plants:
On 1/8/2013 12:33 AM, Danny D. wrote:

The plants with thin roots are rather new seedlings. You will continue to have new seedlings for years to come. Just keep after them and eventually the plague will go away.
Paul

posted on January 8, 2013, 7:55 pm
On Tue, 08 Jan 2013 08:46:07 -0800, Paul Drahn wrote:
I agree with you!
In fact, two years ago, I cleared an acre of the Scotch Broom and Spanish Broom with a chain saw (the Spanish Broom was up to 6 inches thick or so and 15 feet tall or so).
The Spanish Broom came back with a vengeance, especially as it sprouted around the cut stumps.
Then I learned you must paint with glyphosate (e.g., Roundup) within five minutes of cutting.
That stopped the recidivists.
Then I learned that the seeds can remain viable for 100 years!
Wow. No wonder the invasive broom species took over the land!
I'd like to strangle the guy who brought them into this country! :)
posted on January 8, 2013, 10:41 pm
On 1/8/2013 11:55 AM, Danny D. wrote:

Many years ago ODOT, Oregon Dept of Transportation planted Scotch broom in newly constructed highway embankments to control soil erosion. Years later, when they became aware of allergies and how invasive they are, they tried to eradicate the Scotch Broom. Of course that never worked.
Now they deny any responsibility! I recall driving by a planting of Spanish Broom and being unable to breathe for almost a minute. Then I learned to hold my breath when I passed the spot.
Paul

posted on January 8, 2013, 10:58 pm
On Tue, 08 Jan 2013 14:41:01 -0800, Paul Drahn

Crown Vetch is used in the East, with a similar outcome. I don't think it's quite as bad, allergenically as you say, though.

When was the last time you saw a politician (or regulator) accept responsibility for *anything*. Remember, it's GWB's fault.

posted on January 9, 2013, 1:01 am
On Tue, 08 Jan 2013 14:41:01 -0800, Paul Drahn wrote:
I actually like the smell.
But, as can be seen by this photo today, they resprout whenever I cut them (I thought I had eradicated them last year!).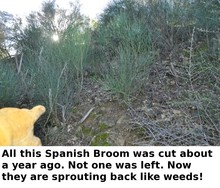 posted on January 10, 2013, 10:40 am
On Wed, 09 Jan 2013 01:01:37 +0000, Danny D. wrote:
On Thu, 10 Jan 2013 21:44:12 +1300, Eric Stevens wrote:
Aha!
That explains why I failed to eradicate Spanish Broom on my property in addition to the Poison Oak.
Recently I learned you need to apply the glyphosate within minutes of chainsawing the Spanish Broom.
I never knew why - and - I thought it was specific to Spanish Broom.
From what you're saying, it's the way plants work.