It's a through the door water/ice dispenser with the bucket inside. The bucket when you look inside it has the metal screw which where it meets with the front of the removable box abuts a metal plate which is sort of riveted and bent around the plastic container. That piece (the flat piece in the front inside of the bucked) rusted (waiting for wife to email me a pic, she's writing to Frigidaire and enclosing the picture). I'll post the model # tonight when I'm home. Hopefully you guys are right and they've fixed the issue, I'm just surprised (I suppose I shouldn't be) that my wife was given such a hard time over this 'merely cosmetic' issue. Normally I don't like these yearly additional warranties, but we're getting our money's worth with this water dispenser/ice maker. I think we pay $80 a year and pretty much every year they're at the house replacing $200+ worth of parts.



In five years you could have paid for a new base model fridge. You are the exception getting hte payback.

posted on July 14, 2005, 8:09 pm
wrote in message
True if we had a base model fridge, but this is a $1400 fridge. Like I said, those things are typically a rip off and I avoid them at all costs. In this ONE instance it happens to have worked out.
The wife just emailed me the pic as I was typing this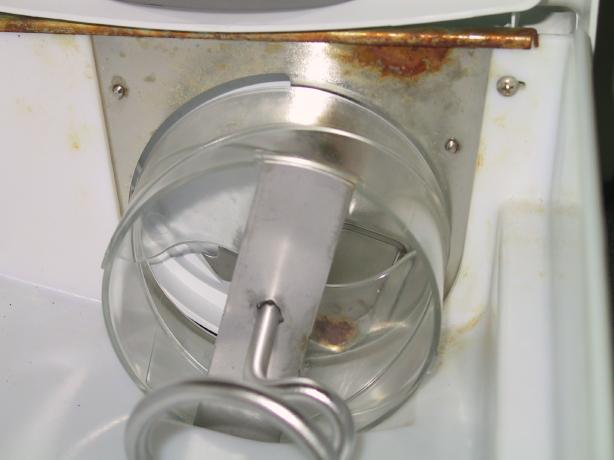 http://www.nema.com/junk/rust.jpg
posted on July 14, 2005, 3:50 pm
RobR wrote:

Nice pic!! :)
Typical, have seen a few do this on many makes :(
-Likely- the new one will have some kind of a coating on it.
jeff. Appliance Repair Aid http://www.applianceaid.com /

posted on August 20, 2005, 5:51 pm

Just as a quick followup to this old thread, we did finally get the replacement and it was identical to the old one. No coating. Guess we'll be doing this again in a few years, what a silly design.

posted on July 14, 2005, 9:20 pm

Nasty looking and has no place in a fridge. Could be defective plating on a steel part.

posted on April 26, 2016, 2:36 pm
replying to Edwin Pawlowski, Sourpuss wrote: Old post but putting in my two cents. Our fridge is a 2014-15 model and the ice bucket does the same thing. We replaced the pieces and 2 months later more rust. Apparently 10 years didn't make them change a darn thing!!!!

posted on April 27, 2016, 11:55 pm
replying to Sourpuss, Vick6740 wrote: I stress out about this but now I just rinse the ice every time I use it. Ugh.