UPDATE: Thanks for all your help & advice!
Here's what I bought from Home Depot to cut the sandstone flagstone for the walkway:
For the sprinkler head holes, I bought the following: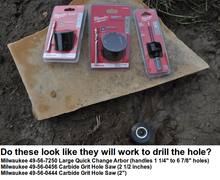 * Milwaukee PN 49-56-7250 Large Quick Change Arbor (for 1 1/4" to 6 7/8" hole saws)
* Milwaukee 49-56-0444 Carbide Grit Hole Saw (2") *
Milwaukee 49-56-0456 Carbide Grit Hole Saw (2 1/2")
The reason for the two hole saws is I'm not sure how wide to make the hole in the flagstone for the Rainman 1800 sprinkler head to fit up.
For the cutting of the flagstone to shape it, I picked up these 7" circular saw blades: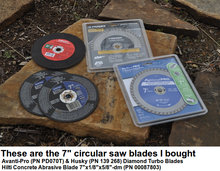 * Hilti PN 00087803 7" Concrete Abrasive Blade (7"x1/8"x5/8"-dm) * AvantiPro (PN PD070T) & Husky (PN 139-268) 7" Diamond Turbo Blade
I'm running into a problem with pipes under the flagstone at the moment so I'll let you know how well these two types of circular saw blades work out on the inch-thick concrete.