While I'm at it (cutting flagstone to create a walkway) ... would you suggest I try to repair these three holes in existing flagstone set in concrete?
How would you fix these damaged pieces (all set in concrete)?
This is in the worst damaged flagsone (in a heavy load area):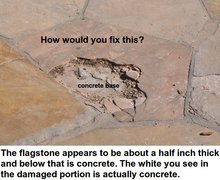 This is inexplicably just starting to break into pieces: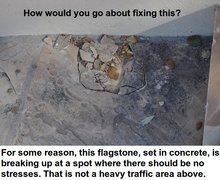 And, this one, looks like it's going to go the same route: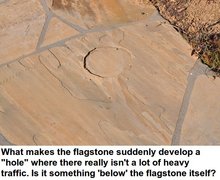 I'm guessing the way to fix these are to chisel them out, and to chisel out the concrete below them - and then fit a custom-fit piece of the right thickness back into place.
The problem of course is fitting the piece in and cutting all the concrete out.
Is there an easier way to repair these flaws?