On Wed, 29 May 2013 15:38:29 -0400, Dan Espen wrote:
Actually, she just wants me out of her hair. She was used to me being at work all day, every day, and now I'm home all day driving her crazy.
Little does she know I cleaned her countertops this morning: :)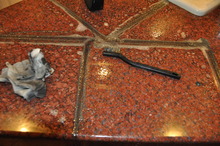 < Regarding OCD >
While I have a great attention to detail, and, I have trouble making decisions when I don't have enough data, I'm actually not OCD (I was just joking). I'm not afraid of germs, snakes, spiders, poison oak, ticks, etc., even though I'm exposed to all of them every day, all day.
I do have a great attention to detail, and, well, I do ask questions of everything, in that I love to learn, and to teach. But you'll notice that I snap pictures for you guys, so you don't waste your time guessing at the situation (plus smart guys like Oren tell me stuff that I didn't even think about, just from looking at the pictures). I've been on USENET for decades, and I know how bad some posts can be (lack of detail, lack of response, etc.).
I'm all about detail. Getting the numbers exact.
I despise, for example, automotive shop manuals, which have almost no attention to detail. I have them all, but I prefer a DIY video to what they have in the shop manual. I read the booklet that comes with an ice-cream maker, and I ascertain
*why*
each warning is there. I figure out the dimensions of my replacement pool pump o-rings, so that I can order them in bulk, and always have them on hand. I ask how best to move brush, even though I can move it by hand, hoping there's a better way than the primitive method.
That's not OCD; that's just a desire to learn, to improve, and the ability to think about what is being done. It's what distinguishes humans from dogs. :)