Hi,

Model#? Above does little to ID the dryer.
http://www.applianceaid.com/model.html Some model# helps.

and high

Drum supports ( drum bearing, roller wheels, glides ), idler pulley, motor are common noise makers on many dryers.
jeff. Appliance Repair Aid http://www.applianceaid.com /

I had a 15 year old Kenmore that squealed horribly.
I replaced the idler wheels AND the steel stub shafts that they rode on. The sharts were very slightly worn & IMO were contribtuing to the problem.
The unit is still working fine (only a few loads per week at the shop)
If you'r at all handy you can do this yourself, get the repair manual (~$10).
If you have helper it would even be easier
Unplug the machine, take digital photos as you disaasemble
cheers Bob

posted on May 4, 2005, 6:19 pm
BobK207 wrote:

The dryer I have is a GE model DVL223EA0WW, 3 yr old electric dryer. I replaced the glides a few months ago using the instructions from Jeff's website, and that went well. Would replacing the idler pulley be a job that is comparable in difficulty? I can read and follow instructions just fine, but if the instructions aren't very clear I get lost in all the parts and pieces.
Thanks, Melissa

posted on May 4, 2005, 7:20 pm
yourshoes wrote:
I
Jeff's
job
all
Hi,
A Frigidaire built GE dryer.
Easier!
http://tinyurl.com/bt2gm Idler pulley and bracket.
This can be changed from the back of the dryer.....remove power.....remove the small access panal at the back bottom to R&R the idler pulley. This is how the belt should look around the pulley....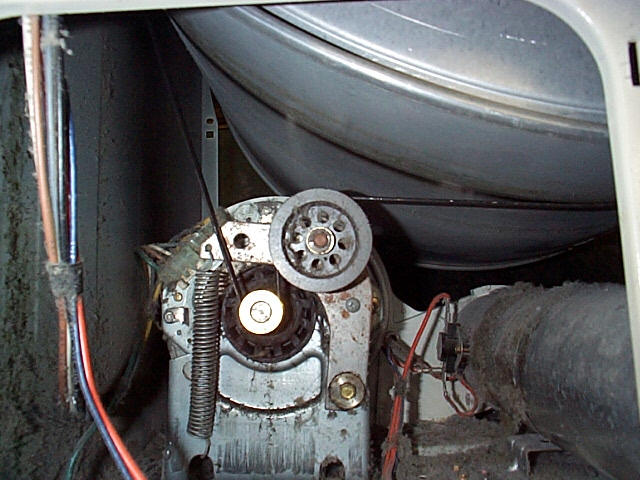 http://www.applianceaid.com/images/ldrwh-belt-thread.jpg
jeff. Appliance Repair Aid http://www.applianceaid.com /
posted on May 4, 2005, 7:58 pm
Maybe the stuff they put on automobile belts would quiet your drier also.

posted on May 4, 2005, 11:17 pm
borgunit wrote:

Hi,
Usually that stuff attacks dust and gets all gunked up :(
jeff. Appliance Repair Aid http://www.applianceaid.com /