On 2/18/2016 2:04 PM, snipped-for-privacy@aol.com wrote:

Hurricanes?

Many HOA's, here, are mandatory and impose covenants on residents. Some of those make sense (keep up appearance, etc.). Others are just overzealous attempts at control.

Here, most of the "non beige" homes are the most attractive. I.e., the owners were actually thoughtful about the appearance and it is reflected not just by the house color but lawn adornments, upkeep, etc. The beige/brown homes are more likely to look like they are in need of some attention!

We put in a decorative walk many years ago so went through the experience. And, of course, selecting the "aggregate" for the front and back yards.
But, walking on stone is different than selecting stone PURELY for its decorative appeal (e.g., on a wall)

Pools here tend to have some form of cement (?) decking -- with drains interspersed (to keep water from accumulating on top -- perhaps it just drains to the soil beneath?).
We wanted a yard (less maintenance?) but have considered an "infinite pool" (a spa seems to be a total waste of space -- giant bathtub?)
But, then we're back to yet another maintenance issue...

Are they somewhat standardized shapes -- i.e., to limit the number of possibilities that you'd have to address?
E.g., if they were just random/natural stones (size/shape), you could see yourself getting into a situation where you needed a 3" stone but only had 4's and 2's (silly example). OTOH, if they are all 4, 8 and 12 inches, then you really can't create a "void" that also isn't 4, 8 or 12 inches! (ignoring, for the moment, the boundary conditions)
Said another way, is it truly a puzzle (like a store bought puzzle!) or more like a *chore* (just some motions that you have to go through but you KNOW there WILL be a solution)

On Fri, 19 Feb 2016 09:47:53 -0700, Don Y

Yes we are in the 150 MPH wind code zone.

Our HOA deed restrictions "sunset" over 30 years ago and any attempt to reinstate them has gone down decisively (last time it was 44-14 for "no"). We operate as a voluntary non-profit corporation and usually still get 90% participation on the dues. Disputes are dealt with using friendly negotiation and not threats. It seems to work as well as the coercive operations.

This is basically the same stone but the walking surfaces are the flat side of the grain and the vertical surfaces are the end grain.

That "Deco drain" is supposed to route the water away from the slab. They are closed on the bottom. You may get away with draining directly into the soil out there but if you do it here you will end up with a sink hole under the slab. Drainage here is done with grading. The pool deck pitches down away from the pool. I have pieces of deco drain here but they are mostly decorative, just to break new sections from the older ones. The 2000+ square feet of stone deck evolved over the years. We keep adding on. I imagine some water does go in there and they do end off of the deck.

My spa swaps water with the pool so the maintenance is negligible. We don't heat it in the summer and when we do the solars do most of the heavy lifting.

Not at all. This is natural stone and they just break it up into manageable chunks. Occasionally I will score the back side and make the rock I need but that is only when we are scraping the bottom of the barrel. Usually you can put a pattern together that works with existing stone. It is time consuming but we usually start laying them out and then spend a week or so just walking by and playing with the rocks for a while then doing something else. When we get a pattern we like we mud them in. The sections we got in a hurry with, look like it. After a while you do get a pretty good eye for it. Like most homeowner projects, about the time you are done, you are getting pretty good. I am still not sure we are done tho. Every time we stop, my wife says, "you know ..." and I am building something else. ;-)

Exactly. It gets to be a Zen thing. As I said. you do develop an eye for it. You definitely want to do the puzzle before you start mixing mortar. If you use the diamond cut stones, they do tend to be regular heights. The split stones are just that, split wherever the grain in the rock goes. It does make a more pleasing wall when you are done tho.

posted on February 19, 2016, 6:26 pm
On 2/19/2016 10:33 AM, snipped-for-privacy@aol.com wrote:

Our HOA is "voluntary participation". So, the only way to "enforce" any notion of consistency is personal intimidation. I.e., same neighbor who intimidated other neighbor NOT to paint "blue" was unsuccessful in "convincing" neighbor on the other side of him to not paint *teal* (blue-green). "If you want my house to be painted beige, you can BUY IT from me and paint it as you like!"

So, it's effectively a *pipe*? (trough)

Lots here are small -- often just 1/3 ac. Put in a front yard (and driveway) and a decent size pool out back and there's little room for anything else!
Folks behind me have maybe 150-200 sq ft of "lawn" and the rest is pool.

It's more than just treating the water (pools go green REALLY fast, here --> mosquito hazzard --> city fine). As lots are small and most of the trees generate lots of litter -- palms, mesquite (millions of little leaflets the size of a grain of wild rice), pine needles, etc. -- so you're always fishing stuff out of the pool.
[One neighbor had to fish a palm *tree* out of his! Hint: they are very heavy when they've had a chance to sit *in* water!]

Wow, that seems like a LOT of work! E.g., each porch would be a couple hundred feet of wall space. Back porch would be the worst, by far, as it has lots of window openings into it that would essentially act as "border multipliers" (where adjoining stones would have to "fit perfectly")

That's how I did the walkway -- laid everything in place before setting them properly. End up with pieces that you can't use (that find homes as singletons elsewhere in the yard -- e.g., under water faucets)

There's a new building going up a couple miles from here -- which is what gave me the idea. I will see if I can get a sympathetic workman to let me onto the lot so I can inspect (and question!) up close...
Thx!

posted on February 19, 2016, 7:10 pm
On Fri, 19 Feb 2016 11:26:25 -0700, Don Y

We got over the problem of what color you paint things a long time ago. Basically all we try to stay on top of is the boat ramp and using the park. The boat ramp is easy, If you screw up there too much, we won't let you have a new key next year but it really has not been a problem.

Yes it is 1.5" wide and 4" deep
This is the brand we see most of the time here. http://www.advancedsurfaces.com/English/S/DeckDrain.html

I have a tad over a 1/3d of an acre but I also have functional use of the FPL right of way behind me, the DOT right of way in front and a quarter of an acre of HOA property next to me. That is still a lot of grass to mow. We are running out of land we can actually build on tho.

Pools here are pretty much always "caged". I have 2300 sq/ft under screen. That eliminates most of the leaf and bug problems.

I fish them out of the river now and them.

If you use the man made product it does go up easier because they are basically Lego blocks, (regular sizes). The diamond cut are similar except for length. They come in multiples of a given dimension. That is truly stacking stone.

posted on February 20, 2016, 8:18 am
On 2/19/2016 12:10 PM, snipped-for-privacy@aol.com wrote:

There's nothing *practical* that the HOA *or* local residents can do -- other than try intimidation (as in the case of the "blue" neighbor). We're not a gated community, have no clubhouse nor any other "shared resources".
They can hassle you (as anyone can) about violations of city ordinances (they *love* to piss and moan about "weeds"). But, you *should* be in compliance with those, regardless.

Oh. So, the neighbors' must drain "somewhere". No evidence of that...

When we moved in, we considered: - yard - pool - spa and ruled out the spa and pool on maintenance grounds (both would have been a nightmare given the 60+ ft pines behind us -- we find pine needles in our *front* yard!).
However, we hadn't realized how much "maintenance" the *planted* yard would be! After felling all the trees on the property (litter, allergies, etc.) we opted for a more "lush" environment (40 and 50 foot trees just look like a *pole* in the yard) with large shrubs (10-15 ft tall) around the perimeter.
We've been through several iterations as we've discovered the drawbacks of various species *empirically*. Some terrible for litter; others bad for reseeding prolificly; still others poisonous to the dogs; etc.
The roses that we *had* to have lasted a few years before SHE got tired of maintaining them ("OK, I'll plant them but *you* have to take care of them!").
But, the rest of the plantings have proven inviting for the hummingbirds (and other birds, unfortunately) so we scored on that count.
[I should have adopted the same criteria with the citrus as *I* don't eat the stuff -- yet seem to bear the brunt of the maintenance efforts; presently juicing 2G each day and will continue to do so for at least another week -- then pick the remaining fruit so the blossoms won't have competition]

I had a friend in chicago with his pool indoors. Interesting "option" -- though cost a bundle to keep it and the "room" heated in the winter!

From a cursory examination of this particular product, I can't discern any "regular pattern" -- regardless of how large a section I choose to examine. I will have to stop by when there are workmen on the jobsite and see if any can fill me in on how it went up (reasonably quickly; but, I wasn't noticing it WHILE it was going up) and what it's called.
Time to pick another 30# to juice tomorrow...

posted on February 20, 2016, 6:14 pm
On Sat, 20 Feb 2016 01:18:00 -0700, Don Y
The county won't step in here until the weeds/grass or whatever is over 18" over a certain percentage of the lot but if the lot is vacant, foreclosed or whatever the HOA would mow it before it ever got that bad. The people who live here are pretty good about mowing before it really gets bad. If you don't irrigate and do the chemical thing, most people would call our lawns weeds anyway. In the rainy season it is bahia grass and in the winter it is these little white flowers. Sort of looks like a dusting of snow.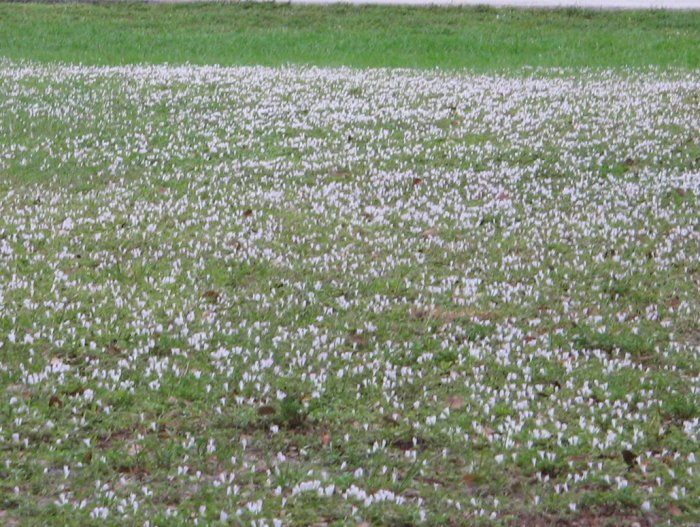 http://gfretwell.com/ftp/light%20dusting.jpg
There us just going to be a small cut out on the edge of the slab
The "regular" part is the height of the stones, usually 3 sizes that are multiples of the smallest one. It allows you to mix them up and make it look random.
We had 40 fruit trees here of various varieties, they are all gone now. I don't miss them
posted on February 20, 2016, 9:47 pm
On 2/20/2016 11:14 AM, snipped-for-privacy@aol.com wrote:

Few folks have "grass" as grass needs to be watered. The city will promptly notify you if a complaint is brought to their attention (though they don't go out checking neighborhoods LOOKING for violations). After 10 days, you can be fined (no idea as to the amount).

Then how do you accommodate a "large and fat" stone in the middle of the pattern?

I wouldn't miss these! (though I *do* miss the blood orange; it's juice was heavenly!)
But, SWMBO likes her oranges and her OJ. (truth be told, I much prefer our *sweet* lemon juice in my tea than the store bought *sour* stuff!). We didn't hesitate to get rid of the peach or the pecan. And, when the Valencia gets whacked (cold spell), I'll be happy to pull it out (and plant a blood orange in its place).
Unfortunately, big crop this year -- I've even started juicing the *navels* (disgustingly sweet) -- and the freezer is already pretty full with other items. In the past, the navels came due earlier than the Valencias... which came due earlier than the blood oranges. But, winters have been getting less severe and the trees want to get started on the *next* crop sooner (the oranges are just starting to blossom; lemon has been setting out blossoms all winter; lime already has small *fruit*!)

posted on February 20, 2016, 11:31 pm
On Sat, 20 Feb 2016 14:47:54 -0700, Don Y

We can have grass about 8-9 months a year on rain and if you want to be responsible you grow something that will come back after it turns brown for a while, bahia aka median strip grass

we are not using many diamond cut rocks. This is a mix to try to look like loose stone masonry. Way more than half are just split and we tried to mix it up

There is a guy up the street who sells them cheaper than maintaining the trees

posted on February 20, 2016, 11:39 pm
On 2/20/2016 4:31 PM, snipped-for-privacy@aol.com wrote:

Here, folks let them rot on the tree. Or, pick them -- but they are crap because they haven't attended to them throughout the growing season.
Navels are presently $1/pound in the store. We'll probably pick 250 pounds of navels and another 250 of valencia. We got 60 pounds of lemons off a 4 ft tree...

posted on February 21, 2016, 5:26 am
On Sat, 20 Feb 2016 16:39:15 -0700, Don Y

And then what. You have 500 pounds of fruit that will only last a few weeks and nothing to do with it. That was my problem. I was trying to give away fruit all winter but everyone knew someone else with trees. I did make orange juice moonshine one year that was interesting.