Depending on the soil, you might try this if you don't have too many to drive.
Scoop out a hole about the size of a beer can, maybe only half as tall. Then just push the rod down by hand as far as you can, which will probably only a few inches. Then pull it up. Repeat and the rod should go down another couple of inches. Keep doing this. Don't pull the rod all the way , only up several inches. The deeper the hole, the more you can pull out each time. When you get about half the rod down, pull it out and fill the hole with water.
I thought this was a joke from a fellow at work. I just had to try it. I put in 4 rods this way. On the second rod I clamped a pair of Vice Grips on the rod to act as a handle.
If there are lots of rocks it won't work, but if you don't hit any rocks it works very well.


I started right away with the water.
Greg

posted on April 6, 2015, 1:23 pm
On 4/6/2015 5:03 AM, gregz wrote:

Have you considered a twelve step program? You can get help for your water problem, you know.
- . Christopher A. Young learn more about Jesus . www.lds.org . .

posted on April 6, 2015, 1:36 pm
On 04/05/2015 05:05 PM, Ralph Mowery wrote:

I did this last year for a ground rod for an antenna I was putting up. I was not at all expecting it to work, but it worked exactly as described, and was a lot easier than dragging out the ladder to pound on the wiggling end of a ground rod (a lot quicker, too).
Jon

posted on April 6, 2015, 12:49 am
On Sun, 05 Apr 2015 17:26:55 -0500, Dean Hoffman
Buy, borrow, or rent a T-Post Driver. Available at any farm related store, Tractor Supply, Menards, even Walmart has them for about $20 in their web store. This is the easiest and safest tool to use. But it will leave about 20" sticking out of the ground, because otherwise the tool would be going into the soil. But once you only have 20" left, a sledge hammer works fine. I'd never try a sledge overhead. Too dangerous! You'll still need a step ladder to get it started if it's 8' or longer rod. I have this tool for t-posts on my farm, but I have driven many ground rods with it too. Easiest method I ever used!
Photo: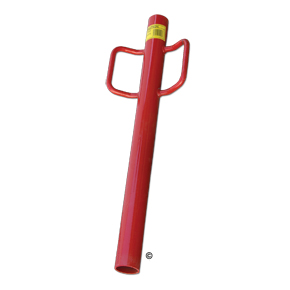 http://www.premier1supplies.com/img/product/medium/446_1.jpg
posted on April 6, 2015, 11:47 am



I use a rotary hammer with an SDS Max ground rod driver attachment. Condit ions in my area are rocky and shale. Very difficult to drive a rod in even with a power tool. I found that alternating between the rotary hammer and sledge hammer works best for these conditions.
I remember many years ago doing a service change. I had two rods to instal l, I had the rotary hammer set up, but the soil was so loose I was able to push the rods in half way.
Harbor Freight has cheap SDS Max rotary hammer and I think it is on sale th is month.
I never tried water.

posted on April 6, 2015, 2:01 pm

Isn't there something in the code about putting the rods in sideways or something if the ground is rocky and difficult to drive the rods in ? I don't do electrical work for a living so not up on the codes. There are some areas around the area I live in are almost all rock. I help keep up a local ham radio repeater. A while back a new tower was going up and the crew had a big power rod driver . Looked like a small air hammer except it was electric. The thing worked well for about the first 4 feet , then hit rocks and would not drive it any more. As this was not anything that needed to be inspected, we quit trying to drive the rods in any deeper. The same thing hapened to all 5 of the rode we tried to drive in at different places.

posted on April 6, 2015, 2:07 pm
Per Ralph Mowery:
This is from somebody who has never driven a rod and, if their luck holds up, never will.
Seems like there should be some sort of faux rod with a carbide tip plus a tool to drive same. Drive the faux rod, pull it out, insert actual rod....
??
posted on April 6, 2015, 3:44 pm
On Monday, April 6, 2015 at 9:57:30 AM UTC-4, Ralph Mowery wrote:

You hit rocks 5 times?
Don't think so.
You hit an underground storage tank, a sewer line, a gas line, a water line, and an electric power line.
Good thing you stopped when you did.

posted on April 6, 2015, 4:09 pm

This was on the top of a hill. There are no underground lines of anykinds. The power lines are all overhead. There is nothing on the hill to have a storage tank or water line. The rods were driven in at places about 50 to 70 feet apart. When the hole was driven in for the base of the tower lots of rock were hit with the back hoe.

posted on April 7, 2015, 11:13 am
Ralph Mowery:
You must live in New England. Rockiest soil in the lower 48 states.

posted on April 7, 2015, 1:42 pm
snipped-for-privacy@gmail.com wrote:
You've never been to Stone County Arkansas have you ? I managed to drive mine <with a small sledge hammer> 7'4" before I hit a rock that I couldn't punch thru . Just the other day I turned up a rock 4" thick and about 6" by 14" in a part of the garden that's been tilled several times . I think they reproduce about a foot down ...
posted on April 7, 2015, 2:12 pm

No, the middle of North Carolina. I live between two towns that are about 5 miles apart. One is called Granet Quarry and the other is called Rockwell. No kidding on the town names. They are about 40 miles up I 85 from Charlotte. Also there is a town called Faith. about the same distance away. There are several quarries around here where granet is or was mined. I think where my house is must have been filled in a lot. I did not have any problem sinking 4 ground rods with the push and water method. There is a small creek behind the house that does have lots of big rocks in it. Around here itis not a mater of rocks in the ground,but the whole place is almost on one big rock.

posted on April 7, 2015, 12:47 am
On 04/06/2015 09:44 AM, TimR wrote:

http://www.panoramio.com/user/2570631/tags/Point%20Six
The local ham 2M repeater is a little downhill from the weather radome. Good luck hitting anything but rock on Point Six. Or most of western Montana for that matter. They didn't call them the Rocky Mountains just for the hell of it.

posted on April 8, 2015, 6:10 pm
Oren posted for all of us...
Oh, a new tool to buy that I'll never use.
--
Tekkie *Please post a follow-up*


posted on April 9, 2015, 4:09 am
That would probably be easier that trying to drive them through a solid layer of sandstone. I was using a 20 lb impact driver and held that thing for 20 minutes and only made about 1/4 of an inch. It also mushroomed the ground rod so that I had to use a hammer to get the rod tool loose.
--
Jim Rusling
More or Less Retired

Click to see the full signature.
posted on April 7, 2015, 6:17 am
Ralph Mowery wrote:

I've never heard of that. I do know you're supposed to bond all of the ground rods (CATV, TELCO, AC, Alarm System, etc...)