Is this a legal partnership or just an informal one?

About 20 or 25 years ago I found termite tunnels in the pickets of my picket fence, and maybe a rail or two. I went to a poison store but couldn't find something that appealed to me. Someone there told me about another store at a specific location 3 miles away, so I went there, but couldn't find it. While asking for it, a guy told me he knew where it was, and we drove about 3 blocks to private home. He walked back to his job while I knocked on the door.
A woman with an infant in her arms answered the door. She tod me she was the wife of a well known exterminator in the area. She told me I didn't want to use poison just for a fence. If it were the house (or something attached to it) it woudl be different, but termite poison was too poisonous just for a fence. It was pretty clear she got this from her husband and he wouldnt' have done it either, even if I paid him. She spent 10 or 15 minutes with me and her infant and her 4-year old. She told me to make sure the grass didn't reach the pickets, to take a saw and cut an inch or two off the bottom of every picket if necessary. I did that to about 30 of them.
Very few of my rails have had termites, even though I don't think they were treated. None of my posts have had termites. Some are water damaged at the top but other than that all 35 are good, except for one, that rotted and broke off at ground level when I pushed on it.

On 12/16/2015 11:12 PM, Micky wrote:

Plenty of poisons will work but the EPA has taken the best from us.
Treatment used to be to surround the house with chlordane and it would last forever. That's why EPA banned it since it lasted forever.
Terminex used Termidor around my house and says it might last 20 years which is longer than I will probably last.
There were other short term treatments, I believe Bayer, that sprayed around would last a year or trenched, 3 years.
There were spots that I could not reach, like under concrete and Terminex drilled through front porch and patio and injected Termidor.
So, I could have kept working on it myself but still be subject to potential attack from areas hard to treat.
I also used to spray diazinon around the house every year but that got banned and then I had an ant problem. The Termidor treatment stopped them too.
There is also a commercially available only juvenile hormone treatment that kills the nest. When one neighbor was invaded causing swarming in the house and damage to house the exterminator used the hormone and they disappeared to show up maybe 10 years later. Termites can travel several hundred feet from nest or establish new nests in a swarm.
I actually got them in wet wood, at the top of my wood pile on the concrete patio.

posted on December 17, 2015, 4:46 am
On Wed, 16 Dec 2015 17:47:35 -0600, snipped-for-privacy@unlisted.moc wrote:

It depends a lot on how "treated" it is. I can show you a .40 CCA treated 2x6 that is about half eaten up. It was in ground contact but they said .40 was rated for ground contact.
I don't have any more confidence in the ACQ and CAC they sell now.
If you can still find higher saturation CCA at a marine contractor supply, it will do better. I have .80 CCA stringers under my new deck but you have to promise it will be used for salt water construction. I still have concrete piles in the ground under it.

posted on December 17, 2015, 1:01 pm
On Wednesday, December 16, 2015 at 11:47:10 PM UTC-5, snipped-for-privacy@aol.com wrote:

IDK what was used to treat would circa ~1980, but I've seen treated lumber used for landscape edging get eaten. But the wood lasted 20 years too. By that time, I think it was likely deteriorating anyway and the insects may have just taken advantage of the final act. And that wood was in one of the worst environments, exposed constantly to dirt, water, unpainted, etc. I'd say the treatment worked, the wood lasted what I would consider a normal life.

posted on December 17, 2015, 3:24 pm
On Thu, 17 Dec 2015 05:01:42 -0800 (PST), trader_4
A lot depends on the saturation level. The stuff they sell at the home store is more like "dipped" in the chemical than pressure treated. You need to read the number. With CCA, anything less than .40 is useless and .60 or .80 is better. Pilings should be 2.5 or more. This is a 20 year old deck and some of the .40 had to be cut out. The 2.65 stringers are still like brand new, sitting in the dirt.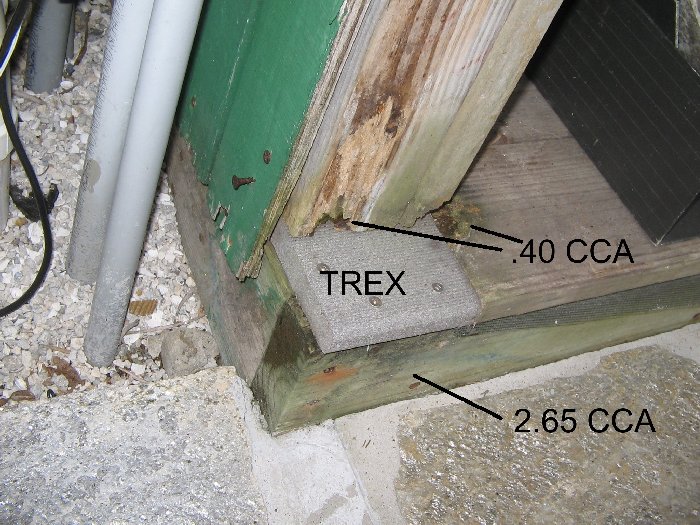 http://gfretwell.com/ftp/PT%20lumber.jpg