Cheryl wrote:

Well, the funny thing is that, in the past, I've unbagged the green Costco bananas, and they never ripened. I also left them bagged, and, they never ripened.
For a long while, I just stopped buying Costco bananas.
But then, I was at Costco on the last Sunday in March, and I figured I'd buy them, and ASK YOU GUYS.
I do realize the paper bag was the suggested method, along with the ripened fruits - but I had no paper bags, and not enough bananas to do all the experiments - so I opted for the simplest ... which was to put fruits in three of the four bags.
So far, I've learned that the yellow Dole banana did almost nothing to ripen the green DelMonte bananas; and I learned that a single apple was a risk because it appears to depend on the apple.
So I juggled the apples yesterday - and threw away the yellow Dole which had turned brown all over - and am currently just waiting to see if the multiple apples will work.
I will report back in a few days...


st

Dear FC-
imo, your "juggling of the experimental conditions" as time progress is effectively muddling any results. :(
You might hit a "home run" and discover a ripening solution but at this point, I cannot say which of your experimental paths I would repeat to confirm a success.
That over ripe Dole may have been you best ripening agent. Based on the results so far, I'd give up on Costco bannanas :(

posted on April 13, 2013, 1:23 am
DD_BobK wrote:
UPDATE:
The untouched DelMonte Costco control set of bananas finally ripened!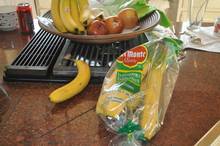 Today is the 12th of April, and they were bought green on the 24th of March, which is 19 days elapsed time.
If we selected just the right (magic) apple, that time can be dropped by two thirds - otherwise - a bunch of random apples seemed to drop ripening time only by about a third.
The yellow Dole banana was nearly useless as a ripening agent (which had to be removed when it turned totally brown).
In summary, the green Costco DelMonte bananas, if left alone, will ripen in two to three weeks but will ripen in one to two weeks if we put a few apples in the bag.