On Sat, 26 May 2012 21:18:51 -0700, Oren wrote:
Again, you're astute as you have ascertained something (a mistake I made prior to this post) that I didn't mention - but which you noticed - which is that the leak has been happening for a long time.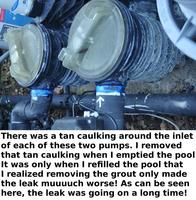 In fact, when I bought the house, the pumps were leaking. I just didn't know from WHERE they were leaking (they were wet all over!).
In addition, the two pumps that were leaking most had a whitish clay- looking grout or 'caulking' all around the two leaking fittings at exactly the spot where I put the blue PVC glue.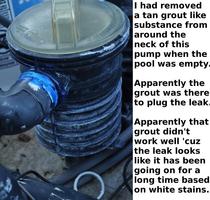 It must have been that this tan grout or caulking or whatever paste, was put there to stop the leak. The interesting thing is you never saw this paste because I chipped it away, not knowing WHAT it was when I was cleaning up the pool when it was empty.
Of course, with the pool empty, nothing happened when I chipped away that tan hard ring of grout around the fitting. But when I refilled the pool, then I had this huge leak.
What amazes me is you noticed all that without me ever once mentioning that I had removed this clayish grout which, in pure hindsight, I can assume the previous owner added to seal the very leaks that you guys helped me seal just now.
Interestingly, when I asked the original question for this thread, I suspected the answer would be whatever that clay-like grout material was. But the answer turned out to be blue PVC cement!
What a weird twist of fate!