Thanks for "endorsement".
Any thoughts on the Kwikset lock I'm interested in?
http://ecx.images-amazon.com/images/I/41JP1D5R38L._SS500_.jpg
No Idea on those...this is what I have been using...they are all Weiser locks seen here....
http://www.weiserlock.com/en/Products/SmartSeries/SmartCode.aspx
Jim
We looked at a Schlage, but it was ugly in the boss's eyes.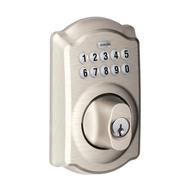 http://images.lowes.com/product/converted/043156/043156901364md.jpg
On Thu, 19 Nov 2009 06:37:14 -0800 (PST), DerbyDad03

I have had a mechanical (Simplex) on my front door since 1971. I am not sure about the electrical ones but I have had zero problems with these.

posted on November 19, 2009, 4:28 pm

It doesnt have the life of a mechanical kepad or keyed lock, ask a local locksmith what life expectancy is. I use a mecanical keypad lock and you wont see battery stuff on commercial buildings. For a homeowner it might be ok.

posted on November 19, 2009, 5:42 pm

Google Bump key entry or on Snopes. Some brands of door locks won't let this happen. Do your homework. WW

posted on November 19, 2009, 6:30 pm
I am a locksmith.
The locks work OK the biggest problem I have seen is the price. If you are OK with the price then you will be fine as long as the lock is installed properly, these gizmos are not to tolerant to sloppy installation.
--

Roger Shoaf

About the time I had mastered getting the toothpaste back in the tube, then

Click to see the full signature.
posted on November 19, 2009, 10:16 pm
That, and toothpast tubes, too? You have many talents.
I've installed a couple of those battery power Kwiksets. Havn't gotten any complaints. One was for an older fellow who had polio. His right arm doesn't work, and the push button design is easier for him to use.
--
Christopher A. Young
Learn more about Jesus

Click to see the full signature.
posted on November 21, 2009, 6:11 pm

It's keyless, not touchless.
R

posted on November 21, 2009, 9:30 pm

Maybe we're talking at cross-purposes. I thought your point was that the electronic deadbolt wouldn't have enough oomph to retract the bolt if the bolt was tight against the strike plate. My point was that pulling on the doorknob, whether with or without a key is necessary if the bolt is tight. I like to put in my bolts tight so there is no play at all when the door is closed. You have to turn a knob to open a door whether it has an electronic deadbolt, a keyed deadbolt, or no deadbolt at all. What did I misinterpret?
R

posted on November 21, 2009, 11:25 pm
re: "You have to turn a knob to open a door..."
or push a lever.
http://i.ehow.com/images/GlobalPhoto/Articles/5184285/279159-main_Full.jpg
posted on November 22, 2009, 1:15 am

Sigh. Is that touchless?
Smitty was asking what happened if the deadbolt was tight - intimating that there was nothing to pull on on a deadbolt. My point was that it is the extremely rate residential door that has a deadbolt and nothing else.
R

posted on November 22, 2009, 2:19 am

Sigh. I was being (I thought) humorous.
P.S. If we go with the push button deadbolt, we're going with the lever, so that's why it was at the top of my mind.

posted on November 22, 2009, 4:39 pm
On Sun, 22 Nov 2009 07:30:40 -0800, Smitty Two

I haven't been following the whole thread, but I have used electronic deadbolts for almost 10 years now and am very happy with them. You *do* get feedback regarding how hard they are working via the noise they make. The noise also tells you when the battery needs to be changed. When the battery isalmost dead, you have to open it twice to fully retract the bolt.

posted on November 22, 2009, 10:15 pm
snipped-for-privacy@neo.rr.com wrote in wrote:
why couldn't the deadbolt be in the doorframe and then it could be powered from the house AC,perhaps with a Li-ion battery backup?
you could still have the keypad on the door,it would just send a signal(coded RF?) to the lock mechanism in the doorframe.That would only require a longlasting lithium coin cell like many auto keyfobs use. Heck,you could even use one of those to unlock your door. Having the bolt go into the door might allow for a stronger door,less likely to be kicked in.
Click to see the full signature.
posted on November 22, 2009, 11:05 pm
Jim Yanik wrote:

Some things do not benefit from automation. Even if you have a keypad to eliminate lost keys, you are still standing at the door anyway to go through it. Pushing down a lever to retract the now-unlocked bolt is hardly a show-stopper. There is a reason cylinder locks have been around for hundreds of years- for 99% of applications, they are reliable enough and cheap enough, and secure enough.
IMNSH curmudgeonly opinion, of course.
-- aem sends...