On Fri, 21 Dec 2012 10:29:01 -0800, jloomis wrote:
To be clear, this residual dust spiral we just learned about is NOT the line chalked (or painted) on the spring BEFORE it's wound.
The chalk line you're talking about would show up as a straight line on a broken (untensioned) spring.
The dust spiral line I'm discussing occurs AFTER the spring is wound. It shows up as a residual SPIRAL on a broken untensioned spring!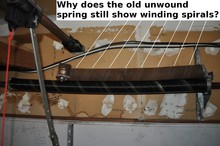 While there are 3 "potential" uses of this residual dust spiral: 1. We can PAINT a line on a wound spring to judge slippage over time 2. We can LOOK at an unwound spring and count the number of expected turns 3. We can LOOK at an unwound spring and determine the expected chirality
Dan Musick replied that he doesn't find the residual dust spiral of use in talking to customers over the phone. He says: 1. The amount of explanation required to show how to determine the number of turns if there is a residual mark is too great, over the phone 2. There's no guarantee the springs were wound correctly in the beginning. 3. Galvanized springs loose as many as two turns of tension, due to fatigue, over their lives.
But, to the trained (and knowledgeable) eye, the residual dust spiral contains useful information - if the owner only knew how to read the dust spiral on the broken spring.
This lesson learned is not obvious, and never was discussed in the alt.home.repair newsgroup in the past.