Posting from rec.crafts.metalworking as always:
1891) I believe this to be a drum magazine for a Thompson submachine gun.
O.K. Now I'm
*sure*
. See:
<http://mikesmachineguns.homestead.com/thompsondrums.html
and in particular: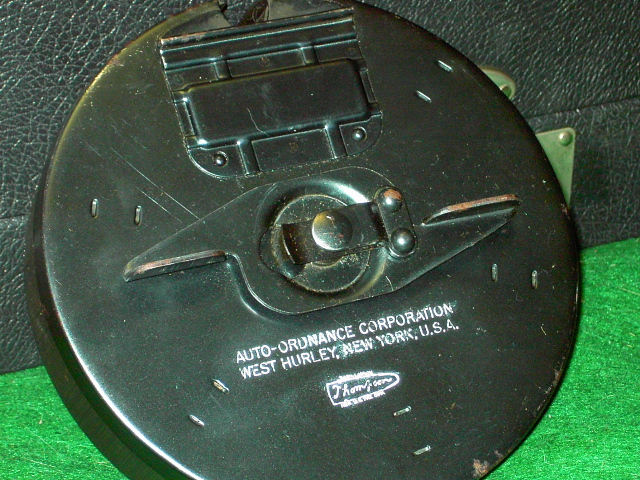 http://mikesmachineguns.homestead.com/files/39rd_drum/39_front.JPG
which suggests that this is a 39 round "XL" magazine, not the larger 50 round drum.
1892) Looks like combs for neatly running three wires parallel.
I've never seen them in person, so I'm just guessing that such existed somewhen.
1893) From the size and the color, I suspect that this is a link for something in earthmoving equipment, perhaps a bulldozer to allow tilting the blade.
1894) For running wire into a groove. Made as a field repair part after seeing the ones used in the factory I suspect.
1895) The shape looks like a bullet -- perhaps about .30 cal, based on the scaling from the length. However, this seems too long for normal muzzle velocities. The cross-drilled tail is to turn it into a key chain decoration. The material is wrong, though it might have been a normal bullet which was chrome plated for the decorative function indicated by the cross-drilling.
1896) This one looks like a the monitors for a CAD workstation, but I don't see the keyboard, mouse, or digitizing tablet.
It looks to have a coin slot, which might suggest that it is really used for photocopying in a library. Hmm ... perhaps a microfiche or microfilm reader with the ability to make copies of individual pages, which would suggest a library for technical purposes.
Now to see what others have suggested.
Enjoy, DoN.
--
Email: < snipped-for-privacy@d-and-d.com> | Voice (all times): (703) 938-4564
(too) near Washington D.C. | http://www.d-and-d.com/dnichols/DoN.html

Click to see the full signature.