How about a tamping tool for fence posts? When we put in wooden posts using an auger-type post hole digger, there was about 1/2 to 1" of space around the post into which the fill had to be packed. In our case, we used the steering rod from an old Model T, but I suspect that there aren't a whole lot of those around anymore :-) It may be that what you have was a custom home-made tool for such a purpose.
+--------------------------------------------------------------------------------+ If you're gonna be dumb, you better be tough +--------------------------------------------------------------------------------+

It looks like some sort of tamping tool to me, too. But I also wonder if its some sort of metalworking tool....for some reason, I get this mental image of this being used to reach into narrow spaces to provide a backing to hammer rivets against or something. Possibly in a gutter?
How heavy is the head?
Or maybe this is a tool to turn a switch on an overhead fan, like that mystery item from a few months back? ;-)
--humunculus

posted on December 2, 2005, 12:10 am
The head of this tool probably weighs between four and five pounds.
Here is a photo of a couple of sand rammers: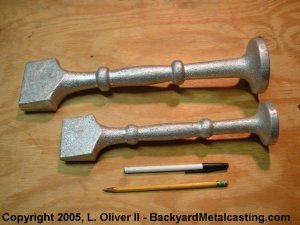 http://www.backyardmetalcasting.com/sellstuff/2rammers.JPG
The head on the larger one looks the same as the tool in my photo, and the smaller one looks very much like the second reaming iron that I previously mentioned. The handles are obviously different, but the business ends look exactly like the number 518.
Rob
posted on November 30, 2005, 2:05 am
If that worries you, don't fly in a small plane. Particularly not in mountainous areas. The pilot plotting his course on charts spread out on the right-hand front seat might disturb you.
--
There's no such thing as a free lunch, but certain accounting practices can
result in a fully-depreciated one.

Click to see the full signature.