Hello, this is Tib0r again.
Here's a drawing of my twist formed from the cut.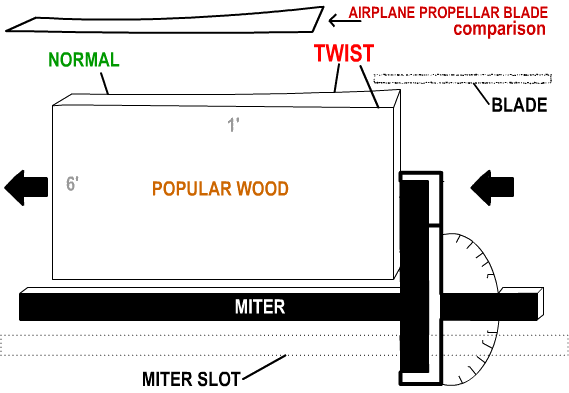 http://autotails.tripod.com/saw/saw.gif
I can't figure out why it twists at the ends in the drawing. I need help from those who have abilities to think in three dimensions.
My blades are true and sharp and appear less like a proverbial potato chip. My miter gauge is align with the blade. I feed the wood slowly. The blade is just a days old and doesn't wobble on it. I've use a cheap 7-1/4" thin blade. I should've gotten the thick 10" name brand ones.
The arbor is kind of a bit suffering from runout, but I've seen worse at Sears. Is it because the blade is 7-1/4", but this should reduce the effects of arbor runouts?
Off subject: A friend gave me an industrial 20 lb., 20-years old 7-1/4" circular saw with what looks like thicker carbide blades. It's brand and model name plaque is rip out 6 years ago. It's dropped hundreds of times and created lots pits and craters on the concrete pavement. I don't understand it, but this circular saw cuts with SUPER fine precision.
What is a practical way to find out if the new table saw will not have future arbor runouts?
Thanks in advance, TW
Poplar, as in Populus sp versus what's sold out east as poplar which is L tulipifera, will twist, turn, squirm and burn when ripping, sometimes without obvious signs in the piece.
However - if you can see areas of smooth, silky surface interspersed with areas of roughness, or the surface of the wood changes reflectivity as you change your point of view, you're much more likely to have problems.
If you have the heart of the wood very close, or in the piece, you're much more likely to have problems.
If you look at the end and see annual rings closely spaced on part of the board and more generous on the other, you might have "reaction" wood.
Get thee to a library and R Bruce Hoadley's _Understanding Wood_ for some interesting observations on what happens to kilned wood.
NB:Don't use the miter gage to rip.


posted on February 7, 2004, 10:50 pm
My question is: where's your fence? Probably a little tough ripping a board with a mitre gauge? If the twist appears after the cut, I would have to ask: is the board rising off the table the last couple of inches of travel?
NB


posted on February 4, 2004, 12:21 pm
A table saw should cut wood like it was machined. Is your blade true and sharp?
Bob


posted on February 4, 2004, 2:32 pm
Jack, I get the impression he is ripping, Tony D. <<<<"If this is normal for table saw, then I don't mind getting an edge planer." >>>>
(Tibur Waltson) says: <snip> what I'm getting is wobbly curve <snip>
You trying to cut freehand? Or, are you using the saw mitre guage?
JOAT It's what you learn after you know it all that counts. - Pete Maccarrone
Life just ain't life without good music. - JOAT Web Page Update 3 Feb 2004. Some tunes I like. http://community-2.webtv.net/Jakofalltrades/SOMETUNESILIKE /

posted on February 4, 2004, 5:19 pm
A decent table saw cut should be straight as an arrow. I'm usually the last one to tell people to replace old tools, but B&D never made a useful stationary tool as far as I know. Time for a saw upgrade.
GTO(John)


posted on February 4, 2004, 6:54 pm
Gotta agree. My experience with B&D table saws is something I would rather forget. They like to make "homeowner" stuff- not suitabl;e for anyone other than a once a year owner.
On 04 Feb 2004 17:19:18 GMT, snipped-for-privacy@aol.com (GTO69RA4) wrote: