Hello, this is Tib0r again.
Here's a drawing of my twist formed from the cut.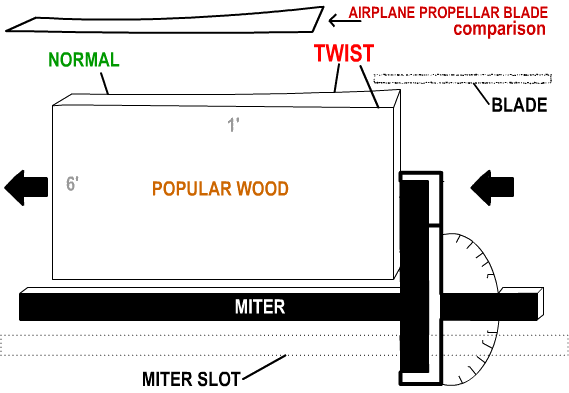 http://autotails.tripod.com/saw/saw.gif
I can't figure out why it twists at the ends in the drawing. I need help from those who have abilities to think in three dimensions.
My blades are true and sharp and appear less like a proverbial potato chip. My miter gauge is align with the blade. I feed the wood slowly. The blade is just a days old and doesn't wobble on it. I've use a cheap 7-1/4" thin blade. I should've gotten the thick 10" name brand ones.
The arbor is kind of a bit suffering from runout, but I've seen worse at Sears. Is it because the blade is 7-1/4", but this should reduce the effects of arbor runouts?
Off subject: A friend gave me an industrial 20 lb., 20-years old 7-1/4" circular saw with what looks like thicker carbide blades. It's brand and model name plaque is rip out 6 years ago. It's dropped hundreds of times and created lots pits and craters on the concrete pavement. I don't understand it, but this circular saw cuts with SUPER fine precision.
What is a practical way to find out if the new table saw will not have future arbor runouts?
Thanks in advance, TW