I'm moving along on my bed build and now need to assemble the headboard. I could really use some confidence building advice.
The bed will be similar to this, but I'm sure that my headboard is being built differently. I believe that they used solid 4x4's for the uprights and mortised the horizontal slats into them.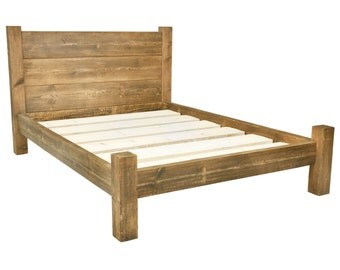 https://img0.etsystatic.com/052/0/9004699/il_340x270.711920270_c0a1.jpg
All of the wood I bought on Craigslist is 1 11/64" thick, therefore I will be sandwiching the horizontal boards between 2 vertical boards so that the uprights will essentially be ~3 1/2" x 3 1/2".
https://images.craigslist.org/00D0D_iIBqUWlVXTO_1200x900.jpg
The bottom of the uprights, below the horizontals, will simply be a sandwich of 3 vertical pieces, similar to how I made the foot board legs.
The other difference is that my horizontal boards are narrower, so I will need 5, maybe 6, horizontals instead of the 3 that they used.
That is a lot of moving parts for me to keep square during the glue up. My current plan is to use biscuits to make one big panel out of the horizontals and then glue the uprights to the front and back of the panel. I also plan to use 2 screws on each end of the horizontals, from the back to the front of the uprights. I would then plug the screw holes with matching wood.
OK, now that I've gotten that plan out of my head and in writing, it suddenly doesn't sound so hard. :-) In any case, I'm open to suggestions, words of encouragement, etc. Does anything in my plan sound any alarms?
Thanks!