wrote:
e
d
I found this:
"Gypsum or rock lath is a pre-manufactured plaster board, generally 16 inches by 48 inches in size, and 3/8 inch thick. Rock lath became popular in the 1930s as a less expensive alternative to wood lath. It is nailed directly to the wall studs and receives two coats of plaster over it. The rock lath is called the first coat and replaces the wood lath and the brown coat of the previous wet plaster system. The second coat is a cement plaster about 1/4 inch to 3/8 inch thick. The finish coat is then applied, which is comprised of hard finish plaster, and is approximately 1/8 inch thick."
Here's a photo of what this kind of wall looks like from the inside: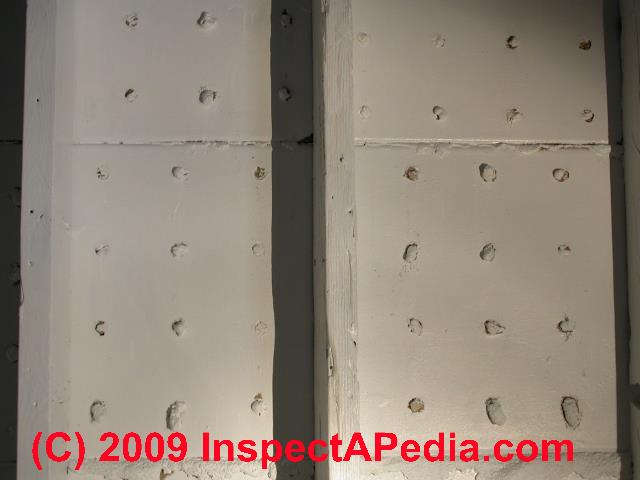 http://inspectapedia.com/interiors/Plaster_lath014-DJFs.jpg
In my house the first coat of plaster is darker, more grey, than it looks in that picture. But the "fingers" of plaster protruding through are very much like what is shown.
I can tell you from experience that that first coat of "cement plaster" is some pretty rough stuff. I used a regular sheetrock Roto- Zip bit to cut out around an electrical box (why, you ask?). It worked well for the first two inches then stopped dead, like I'd hit an object behind the wall. I pulled the bit out of the wall and inspected it. A 1/4" or so of the bit had been worn down to a 1/16" thickness, exactly where it had been in contact with the grey "cement plaster".
The positives and negatives are pretty much like what you can read online. The walls feel nice and solid, much moreso than sheetrock. But yes, cracks can sometimes develop. I haven't had too much problem with that, but here and there I've had to make a repair.
So here's the "why" about cutting around the electrical box. I had a location with two 3-way switches, one above the other. They were of the old "despard" type, which uses a plaster ring that is unsuitable for any current switch. So I had to cut out a piece of wall large enough to remove the whole double-gang plate. But the fun was only beginning. It turned out that the existing box had screw thread locations that are also no longer standard (they were inset from the corners of the box about an inch). And get this, the box was NOT located against a stud. It had an arm that went off to one side several inches which was then affixed to the nearest stud. So replacing the whole box would have required much more damage and much more repair. If the builders weren't already dead I might have had to kill them.
I ended up tapping threads into the corners of the
*rear*
panel of the box and using long screws to hold the new plaster ring on. Followed by an education in how to repair a hole in a plaster wall. Another "2 hour job" that took a weekend.