My wife sometimes takes warnings too literally.
She bought a Cuisinart CIM-60PC ice-cream maker from Costco today: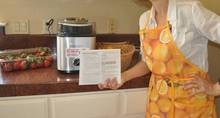 The instructions say (verbatim): "If unit is turned on its side or upside down, you will need to put it in upright position and wait 24 hours before using."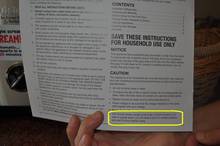 Huh? She asked me if it was ok to use, since it was sideways in the car for transportation. I said "yes" with sheer confidence (luckily she doesn't know about the USENET) as she proceeded to make strawberry ice cream, with fresh-squeezed lemons and cream, milk, vanilla extract, & sugar.
I can "guess" that there is a viscous liquid in the freezing bowl, but it must be
*really*
thick to take 24 hours to settle.
Despite my show of confidence, between you and me, I have no good idea
*why*
the instructions say what they say. Do you?