I called Technical Support again: 1-855-663-9876x2x4 and I detail the answers so the NEXT person with a similar question can find the answers more easily.
Zurn Wilkins (they don't call it Wilkins Zurn) tech support confirmed the (1) indicates it's a 1-inch fitting even though the OD of the pipe going in is clearly (much) greater than one inch in diameter.
They told me to look for an additional (1") on the body and lo and behold, there it is (see this picture):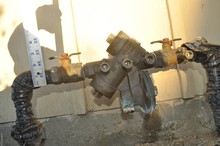 They only sell one repair kit which is the RK34-975XL $43.20 (fits 3/4" and 1")
This repair kit comes with the thicker upper check valve spring, the thinner lower check valve spring, 3 o-rings, 3 seals, etc., and as such is a "complete" repair kit.
They said that Furgeson Enterprises sells them: http://www.ferguson.com
So, I think we have our solution!