-- Actually I have a can right here. It's not "highly" flammable. -- -- It's EXTREMELY FLAMMABLE (all in caps) -- -- As if it wasn't flammable enough, the propellent is propane.
My can of WD-40 says "Combustible' on the front and Do not use near heat, fire or flames on the back. Of course, my can doesn't contain any propellent either. So I'm guessing your EXTREMELY FLAMMABLE is due to the propellent.
Save yourself some money - Buy WD-40 in the gallon can (about $12):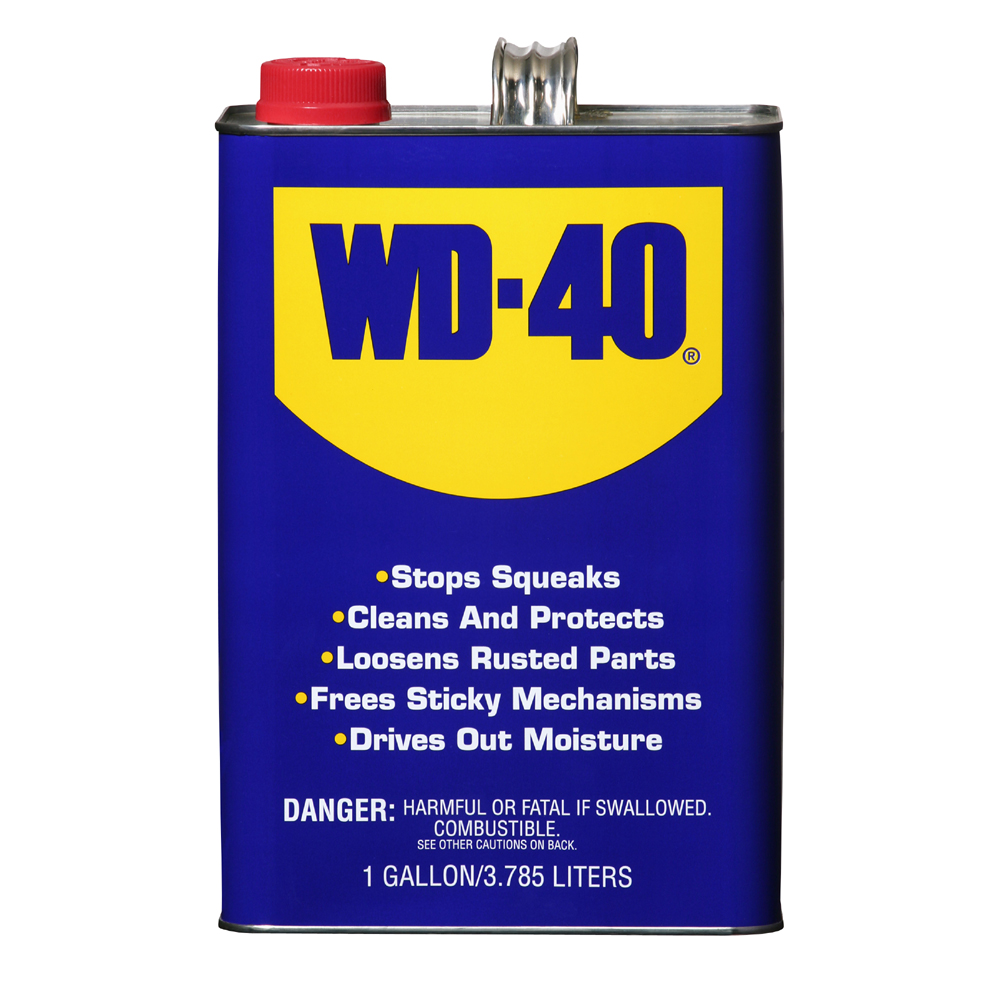 http://images.lowes.com/product/061536/061536430013.jpg
and buy a couple of these spray bottles ($3.29): http://mbeacon.mydoitbest.com/webconnect/imagerequest.php?skuW5402&size=1
Or any spray bottle that can be used with petroleum products. I have three of the ones pictured above and I just refill them as needed.
$20 spent on bulk WD-40 and a couple spray bottles will last you a lot longer than $20 spent on WD-40 in the standard spray cans.

Except that a regular aerosol can of WD40 lasts me about 15-20 years!
CWM

posted on June 15, 2007, 7:42 pm

The warning label on Ph increaser for swimming pools has all kinds of labels on it. "Do not ingest", "If swallowed, call poison control", etc. etc. etc.
It is baking soda.
Warning are some lawyer trying to get out of the next lawsuit. Yes you should be careful, but WD-40 isn't too bad unless you're a 12-year- old with a cigarette lighter.

posted on June 15, 2007, 8:07 pm

who says its just 12 years olds that pull that trick?

posted on June 17, 2007, 3:01 am
What's the flash point?
--

Christopher A. Young
You can\'t shout down a troll.

Click to see the full signature.
posted on June 17, 2007, 3:01 am
Proof?
--

Christopher A. Young
You can\'t shout down a troll.

Click to see the full signature.
posted on June 15, 2007, 6:47 pm
Dave wrote:
Yes you can....And it won't do any harm...
Whether it will do any good is the question...
Prepare yourself for having to replace all the sockets, that may be easier than trying to get rid of the corrosion they may have suffered. they're not all that expensive, and when you install the new bulbs go to an auto supply store and get a tube of "dielectric grease" to smear liberally on the bulb bases to avoid their bases getting corroded into the sockets.
HTH,
Jeff
--
Jeffry Wisnia
(W1BSV + Brass Rat \'57 EE)

Click to see the full signature.
posted on June 15, 2007, 6:50 pm
Dave wrote:

You can, but why?
Think about it. What use is perfuemed pressurized keroscene? I won't stay in place, it will drip out. It provides zeopotetion aganist additional corrosion and will have at best an ephemeral effetc on the threads in terms of getting a new bulbinstalled. Go to an auto parts supply store and getconductive bulb grease or spark plug boot grease.
Lube the bulb threads well with that beore inserting new bulb.
If you have corrosion on the socket threads, TURN OFF THE POWER. Thoroughly sand the socket threads and the center "button" at the base of the socket with 180- 200 grit paper.
Think about replacing the socket if its really badly corroded, and use the conductive bulb or spark plug boot grease on bulbs in the new sockets.
And always use the big "rubber" / neprene / whatever washer with the bulbs. Its not perfect but it does hepl reduce the moisture that gets into the sockets.

posted on June 15, 2007, 7:10 pm

I hope you mean NON-conductive grease.Wait... that doesn't compute either.Conductive = dead short. Non-conductive might reduce electrical contact.

posted on June 15, 2007, 7:16 pm
kool wrote:

I meant exactly what I said.
Unfortunatly, you don't have very good reading comprehension.

posted on June 15, 2007, 7:21 pm
On Fri, 15 Jun 2007 12:16:25 -0700, jJim McLaughlin

Actually, Jim, he's closer to correct than you are, and his question is a smart one. The grease in question is in fact, dielectric grease, which means it is NON-conductive. It's an electrical insulator. When you use it in a lamp socket, the metal still makes contact where it displaces the grease, and the grease surrounds that contact point with an insulating and moisture resitant seal.

posted on June 15, 2007, 7:28 pm
jJim McLaughlin wrote:

...
...
Well, I stuck up for ya' in another response, but if that is what you meant, you're under a (fairly common) misconception. "Boot" or "bulb" grease(s) are actually dielectric (silicone, usually) greases, _not_ conductive. As kool wondered, if they were actually conducting in a bulb socket, for example, they would provide a path from hot to neutral, an undesirable "feature" when power is switched on.
The grease doesn't conduct, the connection relies on mechanical contact through the grease for the conduction path. See the product description I posted for the Permatex product in the other response.
--

posted on June 15, 2007, 8:33 pm

Thanks for your observation Jim, Maybe a high quality lubricant like Loctite copper base Anti sieze compound would work even better on YOUR light sockets but I would advise against it.

posted on June 15, 2007, 7:17 pm
kool wrote:

...
...
...
Yes, he did mean that. "Dielectric" grease is the trick...
It works by filling air space and contact is still metal to metal for the conduction path...
From the product description for a Permatex product--others are similar...
Permatex Dielectric Tune-Up Grease is a silicone dielectric compound used to insulate, lubricate and protect electrical fittings. It protects against salt, dirt, moisture intrusion and stray current in electrical connections.
Dielectric grease extends bulb and housing life of navigation lights, masthead electrical connections, trailer lighting and harness or any electric connections exposed to moisture and the elements. Prevents voltage leakage around any electrical connector thereby insuring a strong spark in high energy engine ignition systems.
--

posted on June 15, 2007, 9:52 pm
dpb wrote:
I've never encountered any truly conductive greases yet, though no doubt they can be made.
I just stuck one ohmmeter probe down into the contents of my can of Thomas & Betts "Koper-Shield" and touched the other probe to the metal can. There was no discernable conductivity, even though the grease has a distinctly copper color.
I think those kinds of "conductive greases" are loaded with finely divided metal particles which become "conductors" when they are compressed between two metal parts and the non conducting grease squirts out.
I've used Koper-Shield on bayonet base automobile lamp bulbs for years without any undue effects, but I've never applied it to a line voltage bulb's base, nor do I think I'd try it. <G>
Jeff
--
Jeffry Wisnia
(W1BSV + Brass Rat \'57 EE)

Click to see the full signature.