In North Texas, we also have a cracking problem, mostly due to really wet springs and really dry summers....
For something that small, I try to use any sort of wire mesh laying around. Old chain link fence seems to do a great job. Embedded as your suggest. If all you have is chicken wire, it's OK, but personally, I'd like something a little heavier.... Maybe a couple rusty old BBQ grills, or even a bunch of coat hangers that the wife was throwing out, distributed evenly......

On Fri, 14 Jun 2013 08:49:49 -0700 (PDT), Robert

If you are anywhere near a real building supply, one 20' stick of #3 will only be a few bucks and cut in about 6 pieces would do the job.
Bought at the HD/Lowes rebar is several times that much

posted on June 14, 2013, 1:34 pm
On 06/13/2013 06:18 AM, snipped-for-privacy@sbcglobal.net wrote:

I used some reinforced concrete mix (bought at home despot) a number of years ago to fix a sidewalk crack. Despite feathering it out on the edges, and numerous expansive clay cycles it has held up like the day I installed it.
It ain't cheap, but I continue to be impressed with it's longevity.
Jon

posted on June 13, 2013, 2:32 pm
nestork wrote:

Concrete cracks. Get used to the concept.
Rebar, or a substitute, has, as its main purpose, preventing displacement of the cracked slab. If not for the rebar, you'd have hunks of concrete sticking up whose only purpose is to trip you.

posted on June 13, 2013, 6:28 am

You don't "need" it, but all you would need is 2 8' pieces cut in less than half. The mimimal cost is worth it and depending where you are in Texas, frost isn't a problem, but it drying out and shrinking is definitely a concern.

posted on June 13, 2013, 12:32 pm
wrote:

Personally I think it is asking for trouble. Keeping rebar 2" from an outside edge in a 4" slab is impossible-- and it will rust and cause spalling in a few years. Use fiberglass- or air entrained concrete.
Jim

posted on June 13, 2013, 11:12 am
On Wed, 12 Jun 2013 14:57:33 -0700 (PDT), Andy

You seem to have gotten good answers. I'm never sure where the boundary is between hijacking a thread and posting a related question, so everyone can read them together. I apologize if I shouldn't post this. Here goes.
I was at a 14th floor apartment being remodeled. 18" square, ~1/2" thick, marble-like tile being put down in the living room. They ran out of tile so we could see the edge of what had been done. About 1" of cement beneath the tile.
AIUI, underneath everything is a concrete floor. Building is 40 years old.
Someone commented that there should have been steel reinforcing in the cement under the tile? Is that true?

posted on January 12, 2017, 11:02 pm
replying to micky, john foo wrote:

the TCA handbook can answer that for you (Tile Council of America). 2004 is 45 pg, 2016 is 450 pg ! there are forums that specialize in tile Q&A. the answer is tile gets installed wrong but what is right is not intuitive - it's definitely a trade

posted on June 13, 2013, 11:34 am

*No rebar, but maybe some 6" x 6" reinforcing mesh.

posted on June 13, 2013, 8:14 pm
On Wed, 12 Jun 2013 14:57:33 -0700 (PDT), Andy

Don't know. But why a slab and not pavers or flagstones? Wouldn't bother mixing/pouring/finishing concrete for a 4x4 slab. There's a lot of advantages to pavers/flagstones. Won't cost much for 4x4.

posted on June 13, 2013, 10:03 pm
On Thursday, June 13, 2013 3:14:33 PM UTC-5, Vic Smith wrote:

Thanks for all the ideas.
Never thought about using pavers.
Andy

posted on June 13, 2013, 11:32 pm
-snip-

I don't know why I didn't suggest them earlier.<g> For a space that size, they are a better choice on a lot of counts-- Variety of styles- ease of install- ability to change the size- shape or style if the spirit moves you.
check Craigslist for free/cheap ones. Spend a lot of time on prepping the base and you won't need to touch them again for decades. [I spray mine with a weed killer in the spring]
Jim

posted on June 14, 2013, 1:00 am
wrote:
Pavers are OK if that is what you want. My wife built over 100 houses with paver lanais, pool decks and driveways but growing stuff in the cracks can be a problem. I had all I wanted in small batches for free.
I use pavers like tile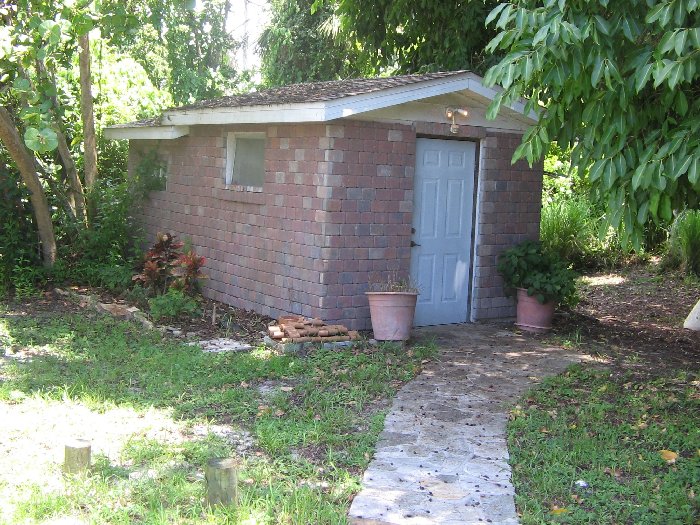 http://gfretwell.com/electrical/brick%20shed%20house.jpg
and use flagging over concrete for walking around surfaces.,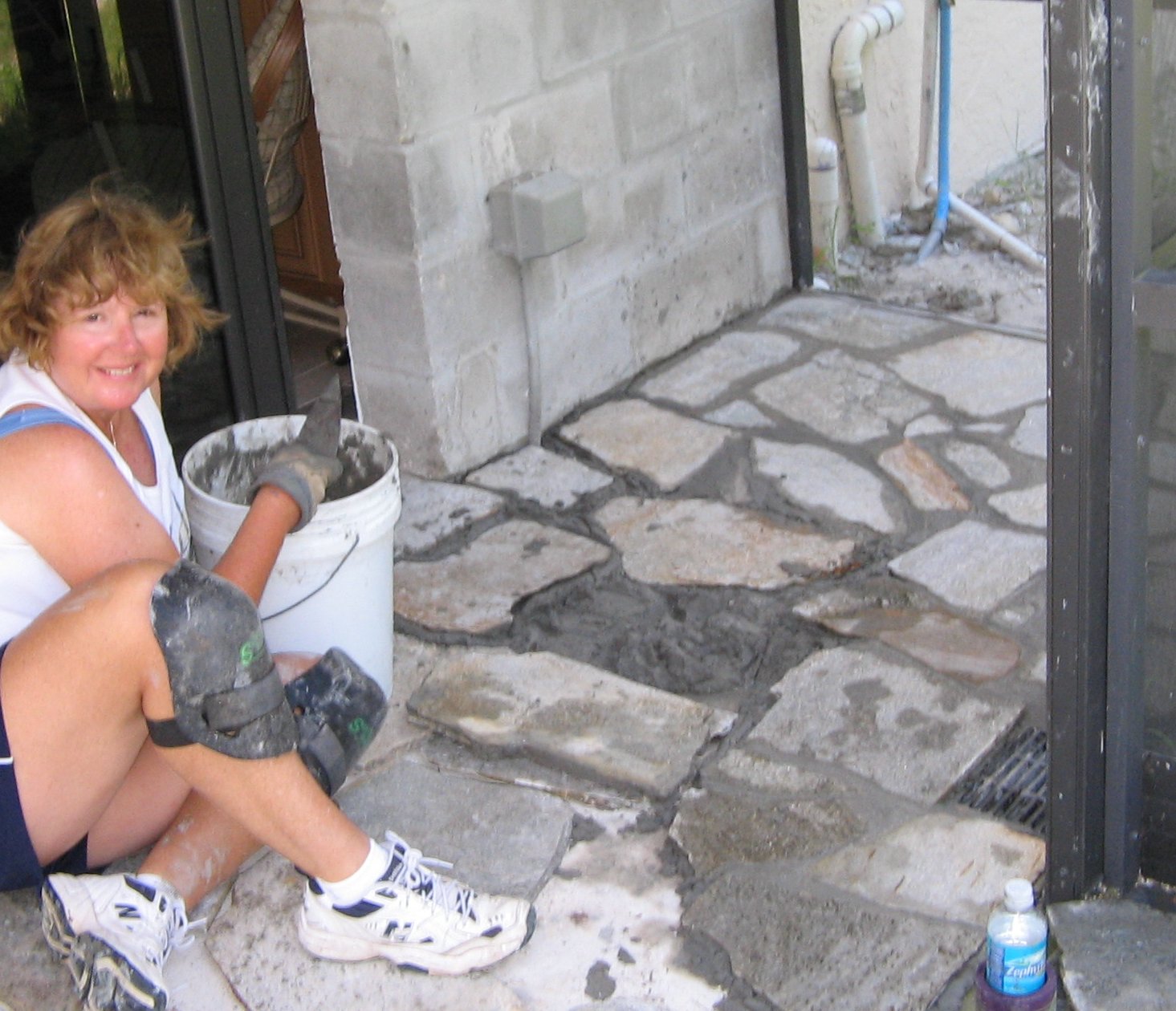 http://gfretwell.com/electrical/addition/Mudding%20them%20in.jpg