On Monday, August 29, 2016 at 12:50:26 PM UTC-4, Bill Gill wrote:
What is the base for? The reason I ask is this:
You are planning to add 1/4" of material on the bottom. Other than raising the entire "gadget" 1/4" since the base will now rest on the plywood, I don't see that as a problem. However...
You are also planning on adding 1/4" of material on the top and essentially removing access to the inside of the corners of the base. Once again, we'll disregard the extra 1/4" (now 1/2" total) in height, but I gotta ask:
What is sitting on top of this base and will the fact that it will now sit on top of the corner gussets and not fully on the 2 x 4's be an issue?
If so, I would just eliminate the top gussets. With enough screws in the bottom gussets, it'll take a lot of force to rack the base. If you are concerned, glue two 1/4" gussets together.
Another option, if you need access to the corners for uprights and you don't want to raise the height at all, would be to use diagonal 2 x 4's, cut at a 45° angle and placed
*inside*
the base, something like this: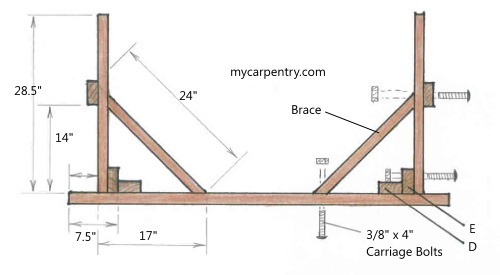 http://www.mycarpentry.com/image-files/picnic-table-2-upsidedown-view.jpg