posted on August 24, 2012, 6:53 am
I picked up a Rocketdish RocketM2 radio for WiFi reception and tried to mount it on an old Dish-TV antenna arm.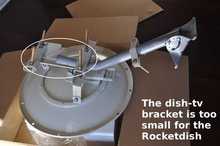 The problem is it's about six inches too short (see picture above).
I had planned on bolting this to the wood boards framing the edge of a tile roof (without going on the roof itself).
Advice sought: a) Would you just extend the mast with a pipe? b) Would you buy a new mast (from where)? c) Is there another trick I can't think of?
I'm hoping a clever idea will pop out of this.
Otherwise, I'll just buy a new antenna arm and make sure it's longer somehow!