posted on February 14, 2010, 4:28 pm
I took apart an older model electric hedge trimmer to clean off some rust. While putting it back together, a white wire appeared disconnected and I can't see any obvious place where it should be connected.
The connections I have are these:
1. Power cord; 2. in to trigger switch with two black wires coming out; 3. in to the mystery component (possibly a filter?) with two black wires and one white wire coming out; 4. white wire seems to be cleanly soldered on the end, and I'm not sure where it should go; 5. the two black wires go in to a second safety switch, which must also be depressed for the motor to operate; outputs from this go to the motor.
I believe the mystery component is a noise suppression filter. It looks similar to this: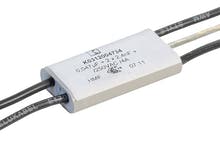 http://www.elektro-kahlhorn.de/images/product_images/info_images/bv18000.jpg
, with input on the left, output on the right.
I appreciate any pointers on what is that white wire and where it would often be connected. The end is quite straight and shows almost no signs of use --- it looks quite pristine compared to the other wires in the casing, and so I'm wondering if it was ever even connected to anything.
Thanks much. Regards, James