"Danny D." wrote in message
Do you have an idea for a more durable leather work glove that protects the entire hand and wrist than what I've come up with over the past year or two?
The best I can find are these three types of gloves: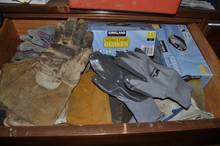 1. For working outside, the best I can find are the TIG welder's gloves. They protect well, but they don't last long - so the goal is something more durable that doesn't cost much more (they're about $18 or so per pair).
2. For most chemical jobs, I use the Costco nitrile gloves by the boxfull (since they're single-use only).
3. For the easy jobs in between those two, I use the Costco set of rubberized cloth gloves (but they are also single use only as they're destroyed within minutes in most cases).
The nitrile and rubber-coated gloves work fine for the easy jobs - but the tough outside jobs are wearing holes in my skin because the leather gloves are torn within a few weekends.
I've learned NOT to buy any glove with a seam across the palm; nor any with thin leather at any location (and to get extra thickness of leather in the palms) - but even then they're worn out too soon.
If you have better ideas for more durable outdoor work glove that also protects well, that would be very useful advice indeed!
Check and see what the rodeo riders use. They must be durable to withstand the ropes. WW