snipped-for-privacy@hotmail.com wrote:
Are you saying that there is a p-trap under the floor or in the wall?
Because that grey curved pipe I see on the left is not a p-trap and won't keep the odor out. The curved part should hang toward the floor, not swing on the side.
You can see an example here: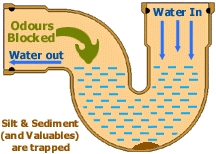 http://www.pavingexpert.com/images/drainage/p_trap01.gif