snipped-for-privacy@hotmail.com wrote:
Are you saying that there is a p-trap under the floor or in the wall?
Because that grey curved pipe I see on the left is not a p-trap and won't keep the odor out. The curved part should hang toward the floor, not swing on the side.
You can see an example here: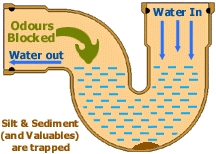 http://www.pavingexpert.com/images/drainage/p_trap01.gif

Looks to me like it does curve toward the floor. And while it's a little shallow, it would probably work fine if it were vented on the downstream side.
(by vented, I mean connected to a vent stack, not poking a hole in it.)

posted on November 2, 2006, 11:08 pm
Goedjn wrote:

And you're right, sorry. I was seeing a floor behind the pipe but that's a wall. My bad. I agree, that should work.
Perhaps the OP could divert the AC drain to a large container for a few days and make sure to close off the part going in the wall. If the odor disappears the pipe is the problem.