Your link worked for me. For those for whom the link did not work, maybe they could do a copy and paste of the link text into the address bar and try it that way.
Due to the reflections in the pictures, I misunderstood what I was seeing in the pictures. Since you said your "turn" the knob to operate the drain, I took another look. In the photo view from the bottom, it looks like maybe there is a little round inset-type cap on the side of the fixture. If so, maybe you could use a pointed kitchen steak knife to pry/pop the cap out, then see if there is a set screw in there. Since you turn the knob for it to work, my guess is that there is a set screw that holds the knob to the shaft inside that has to be turned.
Kompu Kid wrote:



The link worked for me as well but as Ron said...the relfections made it difficult to interpret the photos.
I have seen this type before (friend's house in the 70's) but never removed the knob.
I think Ron is correct about that "cap"...but I would use a sharp chisel or putty knife rather than risk a kitchen knife.
OP- Cover the drain with a wash cloth so you dont lose anything down the drain. Get some Liquid wrench to put on the set screw and the pop- up linkage so you can free it up.
The closeup photos were good for detail but an overall all shot would have been helpful to establish context and making understanding the closeups easier.
let us know how this works out.
cheers Bob

posted on February 6, 2009, 7:56 pm

Hello:
Thanks for all the suggestions. I looked at the knob one more time. Unfortunately there is no inset cap. I looked at the photo and found out that it is piece of hair that got stuck on the cap that looks like the outline of a hole!
Last night I used some sort of an enzyme to unclog, but it did not work.
Today I am going to get a big rag and cover the whole area and try the plunger one more time.
If I can get that knob off, I will get rid of rest of the assembly, and go to a simpler press-on type of drain plug. From what I read on internet, the mechanism inside the pipes is a major cause of problems with the bathtubs.
Deguza

posted on February 6, 2009, 8:47 pm
Kompu Kid wrote:
This probably doesn't help, but here is a link I found by doing a "Google Images" search: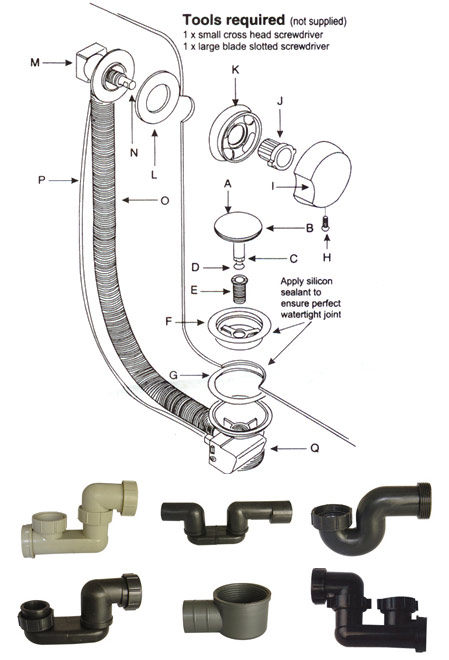 http://img.hisupplier.com/var/userImages/2007-12/21/cxhuayuan_152409.jpg
It's not your exact item, but I started wondering if you have a "Cable-Operated Bath Waste" system (which I never heard of before doing the search).
posted on February 7, 2009, 2:15 am
OP-
What is the real problem here? You are asking for a "solution".... how do I remove the knob?
but removing the knob may not be what is needed.
Now you you're talking about "enzyme to unclog" and "plunger".....sounds like a clogged drain.
What is condition that you are trying to fix?
cheers Bob

posted on February 7, 2009, 2:33 am

The OP's original post says clogged drain.

posted on February 7, 2009, 4:35 am
Hello Folks:
I don't know what type of drain pipes I have.
If I have plastic (PVC?) pipes, what happens if I were to use Liquid Plummer or something similar with a lot of caustic material in it?
I looked up on internet and some say it is not good, some claim it is OK.
Deguza
P.S.: I am finding out that I have fixtures made by Andre. But I think the knob and the mechanism is by someone else. Probably came with the bathtub.

posted on February 7, 2009, 5:25 am
Bob

James-
You know, I read his OP twice and still missed the last sentence with the clooged drain reference both times....my mistake.
Cheers Bob

posted on February 7, 2009, 4:38 am

Hello Bob:
I am trying to clean a clogged drain. I am being told that I am supposed to stick a snake through the hole that the knob covers.
Since I could not get that knob off, I thought maybe this enzyme stuff may help loosen the clogged material.
So far no luck, though.
Deguza