On Fri, 11 Jan 2013 02:07:03 -0500, Wes Groleau wrote:

It depends a LOT on what's in the milk, and, what your body does to it. The entire process is complicated, and I don't profess to fully understand it.
But, it starts with urushiol & T cells.
The actual urushiol is a benzene ring with two hydroxides (i.e., a catechol), with a specific alkyl group which is slightly different depending on species (e.g., poison ivy = 15 carbon chain, poison oak = 17 carbon chain). This molecule is harmless, and it, in and of itself, does not provoke the immune response.
The immune response is complicated in so much as the longer carbon chains in poison oak sap appear to have a greater immune response than the shorter ones of ivy ... and ... the more unsaturated the chain (i.e., double bonds), the more our immune systems react to it (at least it says so in Wikipedia).
Once on the skin, the oil penetrates to the lower antigen-presenting immune cells whose job is to capture foreign invaders and transport them to the lymph notes to be presented as evidence to the specific white blood cells which had matured in the thymus in front of your heart, and which play a role in the cell mediated immune response.
Since T cells, which originate in the bone marrow, randomly mutate in the thymus, some of those mutations select for "self" proteins. But that's bad news for the body, so the thymus has a system for weeding out these miscreants.
Unfortunately, what the thymus lets out are T cells who have receptors that key for the quinole that the urushiol oxidizes to. Hence the rash.
Point is, this is a complicated mechanism, which, we have only two basic approaches to combat:
1. Build up an immunity (i.e., don't create Tcells coded for the quinone) or 2. Remove the quinone from the body as soon as you can
I'm working on the second approach ... you've resolved the first.

Danny,
I hope you are using Ivy Block or something similar. .
Dave M.

posted on January 8, 2013, 2:51 pm
That looks like an incredible lot of work, and a risk of some wicked allergic reaction. I've not yet reacted to poison ivy, but know friends who are super sensetive.
With poison ivy, I'm told not to burn it, as the fire releases the poison into the air, and anyone down wind will have allergic reaction. Not sure about poison oak.
You have courage, and a lot of hard work. And, you have my respect. Wonder if the local municipality has chipper shredders to do this job?
Christopher A. Young Learn more about Jesus www.lds.org .
This weekend, I needed to remove a poison oak plant along my property but the plant was too big and too much on a hill for spraying; so I cut it with an 18" chainsaw and packed it up for proper disposal.
After just two hours, I was covered in the poison oak oil (my clothes came out of the wash all streaked black as if the kids had taken a black marker to them) - but I had to stop as the two recyling bins were jam packed to the brim.
Since I still have a few more poison oak plants to remove, I'm wondering if you outdoor experts have a better way than what I'm doing for removal of a poison oak plant from your property? (The last picture is of me washing up!)
Here are 19 annotated pictures, taken sequentially. 1.
I didn't measure it, but this one plant is about 20 feet long (or so), by about 20 feet deep down a hill - but I only removed about 5 feet along the curb as I ran out of room in the bins.

posted on January 8, 2013, 8:06 pm
On Tue, 08 Jan 2013 09:51:58 -0500, Stormin Mormon wrote:

Hi Stormin,
I have a few red bubbly spots on me, but it's not too bad yet. Mostly it's on my left wrist and right ankle and the back of my neck. I'm very surprised my eyes don't itch since I kept getting chips caught in my eye, and my camera & chainsaw have to be covered in urushiol too!
I cleaned the camera with rubbing alcohol (but I'm not sure if that actually works) - but the strap needs cleaning somehow.

I looked it up in gory detail. NOBODY is ever immune.
Eventually everyone gets it (unless they die first). It's like being in war. Just because the first bullets didn't get you doesn't mean your cell mediated immune reactions won't at some point kick in and the next one is the one you regret.
Note: Actually, I'm told people with AIDS don't get it, but that's a special case.

Yes. I know. Inside your body, the immune reaction can kill you.

I called the waste company - they just told me they won't take it. Luckily I have a 4-inch chipper, but it's a royal pain getting anything down the chute (I'm sorry I bought that loud monstrosity).

posted on January 8, 2013, 3:56 pm

Brush cutter / mower.. (rotary lawn mower on steroids) http://www.drpower.com/prdSell.aspx?Name=fab-sp-pro1 http://www.sunbeltrentals.com/equipment/equipment.aspx?itemid=0700067&catid=s446
Make sure the unit is powerful enough to handle the material size. A large mower will chop material so disposal is at higher density or chopped material could be left on ground. Cutting path across hill face much faster than a chain saw.
Be prepared to follow up with the proper herbicide at the correct time in the plant's yearly cycle. True eradication is not a "one time" effort.

posted on January 8, 2013, 4:05 pm

Geez if access to this area is limited just cut all the plants at the base with a loping cutter, mark each location by driving a stake in the spot.....
then when it begins to regrow, herbicide it heavily.
i had great success on poision ivy by mixing 50% roundup with 50% poision ivy killer... they wilted by the next morning and just died... either seperately was not effective:(
do not chip or BURN !! Burning smoke will give anyone in area poision whatever in the lungs! can be life threatening!!
why work hard if you can work easy? the dead plants will eventually rot, but will be a itch hazard till they have rotted away...
but the OP will have a much easier job

posted on January 8, 2013, 8:20 pm
On Tue, 08 Jan 2013 08:05:32 -0800, bob haller wrote:
Hi Bob,
Trust me, I tried the weed killer.
Every year I buy this 2.5 gallon concentrated (41%) glyphosate (which is a huge amount considering you dilute it 2 ounces to 5 gallons of water):
Notice those gloves in that picture are the ones I used on Sunday and they're already starting to show the black urushiol lacquer, which only reveals itself a day later (or after washing), presumably as it oxidizes.
The problem is that you need a helicopter to get the weed killer on the leaves. Sure, I can spray the entire front by the curb, but how do I get the spray 10 or 20 feet deep and down the very steep hillside?
A pressure washer, filled with glyphosate, might do the trick though!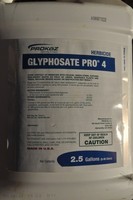 posted on January 8, 2013, 10:02 pm
On Tue, 8 Jan 2013 20:20:04 +0000 (UTC), "Danny D."

You might try a sprayer intended for fruit trees; long snorkel.

posted on January 8, 2013, 10:45 pm
On 1/8/2013 3:02 PM, snipped-for-privacy@attt.bizz wrote:

here in phx, they spray olive trees to prevent flowering. they use what looks like truck mounted pressure sprayers with a very long hose and wand so they can reach the top of the trees some 20-40' up.

posted on January 8, 2013, 11:01 pm
On Tue, 08 Jan 2013 15:45:52 -0700, chaniarts

Perzactly. I've seen them used on apple trees, too.

posted on January 9, 2013, 2:34 am
On Tue, 08 Jan 2013 18:01:20 -0500, krw wrote:
I like the idea of a truck mounted sprayer.
But there will still be tons of poison oak in the inaccessible places like this one I snapped just today about 100 feet below where the pictures were taken yesterday.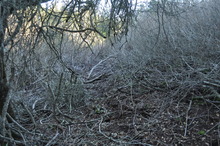 I don't think a truck can get down there, unfortunately.
posted on January 8, 2013, 11:24 pm
I wonder if a backpack sprayer would do the job?
http://www.harborfreight.com/4-gallon-backpack-sprayer-65040.html
Less efficient, but a pressurized water fire extinguisher has some range.
http://lib.store.yahoo.net/lib/fireadesource/amerex-240.jpg
I've owned several of these, over the years. 20 foot horizontal range is possible.
Christopher A. Young Learn more about Jesus www.lds.org .
here in phx, they spray olive trees to prevent flowering. they use what looks like truck mounted pressure sprayers with a very long hose and wand so they can reach the top of the trees some 20-40' up.
posted on January 8, 2013, 11:27 pm
http://www.guidrynews.com/story.aspx?id 00005595 I bought such a Nomad sprayer on Ebay, for cleaning jobs away from home. Worked reasonably well. I also used it to pump pink antifreeze into RV water systems.
Might apply Roundup mix to these poison oaks. Ten foot hose. I remember I was able to stand on the ground, and spray water on top of my mobile home. Kind of fun.
Christopher A. Young Learn more about Jesus www.lds.org .

posted on January 9, 2013, 2:08 am
On Tue, 08 Jan 2013 15:45:52 -0700, chaniarts wrote:
The truck-mounted sprayer 'might' work on the curbside plant, if I could afford it - but - look at this picture to see the magnitude of the problem I face.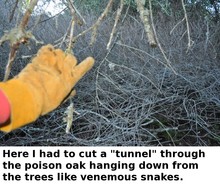 There is just no way a truck is going to get down there!
posted on January 9, 2013, 5:04 am
On Tue, 08 Jan 2013 18:29:51 -0800, TimR wrote:

Nobody is immune to cell mediated immunity.
I was sensitized to poison ivy way long ago as a kid. I get it as badly as anyone does.
Now that I'm in California, it's poison oak. But it still itches like crazy.
When I get it on my skin, and I don't wash it off, I am red and yellow blisters and itching for weeks on end. Just like you are.
The problem is exacerbated when you see how much oil is in a single plant! Look at this video, for example, of a 3-inch thick vine I cut today.

http://www.youtube.com/watch?v=qYcJslc6ymE

That's enough urushiol right there to poison every single human on the planet! Talk about biological warfare!
PS: My camera is soaked in the stuff. I don't know how to clean it yet.

posted on January 10, 2013, 7:07 am
On 01-09-2013 00:04, Danny D. wrote:
Or as my four-year-old sister said, "There's no such thing of that, 'cause I never heard of it!"
They said no one is immune to smallpox--your lack of scar PROVES you were never vaccinated. So they did it again.
Two years later, same argument, same result.
My sensitivity to poison oak DEcreased from 1967 to 1972. Don't know why, but I've posted my hypothesis already.
--
Wes Groleau

Don't get even — get odd!

Click to see the full signature.
posted on January 9, 2013, 6:44 am
On Wed, 09 Jan 2013 01:17:40 -0500, Nil wrote:
When I first bought the property I live at, which is covered in Pacific Poison Oak, I researched the Internet for weeks, trying to assess my enemy. (Never underestimate your enemy when it's poison oak!)
One thing I learned is that the delayed cell mediated immune response to urushiol is such that NOBODY is ever (truly) immune.
Sure, you might not get the rash this time. Maybe not next time. Maybe not the next. Or the next after that. But, the physiology of the body's immune response is such that everyone 'can' get it at any time after the first exposure. Which is exactly what you found out! :)
What I do, by the way, after a severe exposure, is, instead of buying the expensive IvyBlock/Technu/Zanfel/Prednisole regimen, is the following: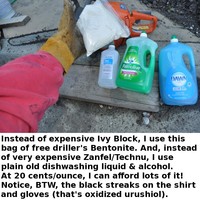 posted on January 9, 2013, 4:36 pm
On Wed, 9 Jan 2013 06:44:40 +0000 (UTC), "Danny D."

Yes, which is why I never play with poison ivy. One summer I had the kid clean up some vines in the back yard. Nothing I hadn't done but I didn't recognize the PI, either. I have never had a reaction to PI, though I've never been one to tempt fate. He got a little rash but my wife just touched his clothes, taking them from the floor and putting them directly in the washer, came down with blister from head to toe. She was one hurtin' pup for weeks.
Some time later I hired a handyman to cut down a tree by the road. We knew it was loaded with PI, but he said it didn't bother him. Well maybe it never had, but it sure did that time. He was in the emergency room shortly after. Did I say that *I* didn't play with the stuff. ;-)