They're so cute, these crab spiders. For three days in a row I've been watching a white one that lives in white thimbleberry flower. Today her blossom-house is all wilted, & no more prey is apt to come to her there. There are fresh thimbleberry flowers right next to her flower-house, but she hasn't yet figured out she should move next door. Couple days ago she caught a really big pollinating fly, & held onto it for two days in her big pinchers, & yesterday I was lucky enough to see her carry the husk to the edge of her house & throw it away.
Crab spiders or flower-spiders take two or three days to turn the same color as the flower they lurk in, so pollinators can't see them. They don't make webs. I remember my great-grampa's cornrows of dahlias had bright blue & bright orange & bright red crab spiders waiting in the blooms to ambush pollinators. But the most common ones can turn only shades from white to yellow, & if you put one in a flower the color of which they can't match, they leave to find a white or yellow flower.
When lurking in flowers & being color-coordinated, I find them so attractive & appealing. Not all crab spiders ambush from flowers, though, & sometimes a particularly big one that lives on the ground, running sideways with its front pincers raised above its head, scares the bejabbers out of me. They have great eye-sight & wave their pinchers threateningly, which is kind of weird, tiny little thing threatening to do me in if I don't go away. But the flower spiders are always quite small & pretty & sit perfectly still waiting for prey, they seem pretty sure they're invisible & never act threatened even while being watched.
This morning when I saw this one's house had wilted, I touched the outside of a wilted petal, & the ivory white spider ran to the front of the flower to see if there was something to catch. I almost took it out of the wilted flower to put in a fresh one, but I suppose it'll soon enough figure that out without my help.
I tried to get a picture of it: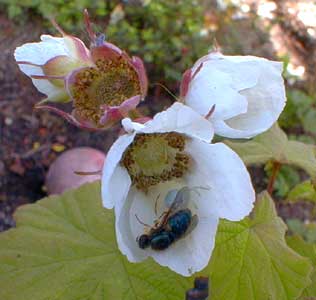 http://www.paghat.com/images/thimbleberryspider_june.jpg
--
"Of what are you afraid, my child?" inquired the kindly teacher.
"Oh, sir! The flowers, they are wild," replied the timid creature.

Click to see the full signature.