If up against a wall, I suppose it'd make more difference, but for me, realizing I seldom work in the same place twice with my routerbox on a Workmate, that's not important.
No matter how much support you give it on the infeed side (remember to feed into rotation), eventually the piece exits, and becomes just as unmanageable as it would have been had you less infeed distance. Use roller supports as required.
If you have, as others mention, one of those super-duper fences, you'll have to allow for mounting and full directional travel. For me, like the router guys, a chunk of something straight with a clamp on each end, adjusted with a few taps of the Polish persuader suffices.
In short, you'll find a job or place where it'll be mounted wrong for the task at hand, so go with the easy spot.



I'd say it's a matter of preference. I went with placing the router 1/3 up from one edge. But my table is on top of a roll around cabinet and I use simple wood fences that I clamp on --- this means that the router is either 1/3 the way across or 2/3 the way across depending on where you stand. For example, long linear pieces are generally handled from the shallow side. Large flat things (like door panels) are handled from the deep side so the work piece is well supported. In retrospect 1/3:2/3 is ok but the golden ratio (about 38%/62%) would probably have worked about as well and made any mathematician who wanders into your shop smile.
hex -30-

posted on October 19, 2003, 1:10 am
I put mine centered front-back but to the left some, but that's because I was putting an Incra fence on the right and wanted to make sure I could use the whole range of the fence. I think this photo shows it best: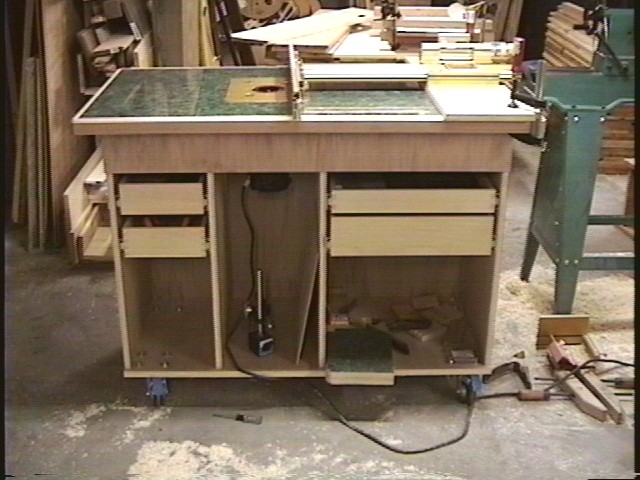 http://www.delorie.com/wood/projects/router/overview.jpg
But in general you put it where it makes the most sense for the type of fence you're using. With an Incra, you need room for the beam. For a Pat Warner type fence, you don't.
FYI here's the rest of the project: http://www.delorie.com/wood/projects/router /
posted on October 19, 2003, 2:25 am
My table top is 24x36. I put the router 8" from the front, centered left-to-right, and this has worked out well. About 90% of the time I work from the front, and the 8" depth is deep enough to support the workpiece but not so deep that it feels like I'm reaching.
The other 10% of the time when I'm working on something large (like panel-raising a door) I work from the back of the table and I have a 16" support surface.
I have on/off switches on both the back and the front of the table for safety.

-- jc Published e-mail address is strictly for spam collection. If e-mailing me, please use jc631 at optonline dot net

posted on October 19, 2003, 2:38 am

i put mine in the middle. also made the fence so that it can be used in either dirrection. front to back or side to side simply by moving the hooks. works great. skeez

posted on October 19, 2003, 8:16 pm

While personal preference should rule, consider what at least one pro outfit does.
Benchdog put the insert about 1/3 from the front. Their reasoning is that most work is done on narrower stock and you don't want to have to reach back any more than necessary. OTOH, when you do have a very wide piece to work with, just turn the table around and now you have a very wide front to rest the work on.
This has been working well for me. Ed

posted on October 19, 2003, 8:43 pm

When I built my latest table, I moved the plate back, to the center of the table.
My old table worked well with two exceptions, raised panels and end grain routing with stile and rail bits. These two annoyances were enough to make me construct a new table.
Here's some photos that may help: <http://www.bburke.com/wood/jigsandtools.html
Have fun, Barry