A couple of additional points to consider.
(1) The higher grit sandpaper you use, the less stain soaks in. That's because there's less exposed grain for the stain to seep into. I usually sand raw wood only to 180 - except the end grain (if that's going to show) which I sand to 320. If you find that the stained color is close but not deep enough, you can always try applying a second coat of stain. Realize that the second coat will soak up less than the first coat too.
(2) I also don't sand between the stain and first coat. Too much risk that I'll sand through the stain someplace. If you want to sand here (because the stain really raised the grain), go easy using with a 320 sandpaper.
I completely agree about using 320 between each coat of seal and go with 3 coats of seal. You'll end up with a really smooth surface - almost certainly smoother than your current cabinets! Doing anything after the final coat is up to your judgement. If the final coat feels smooth to the bare hand, don't worry about it - especially for cabinet type of work.
My major concern would be ending up with something that looks right color wise but is finished much nicer than the rest of your cabinets - which might make it stand out. If that's the case and you want to try again, sand back down to the raw wood stopping at 150 and only apply 2 coats of seal - that's probably about as much as the original cabinets got!


jon has it right. Please do not sand the stain before a top coat is applied. You'll probably be sorry. Good Luck

posted on December 9, 2005, 8:29 pm
Lee wrote:

right. don't sand STAIN, but you can carefully sand DYED wood. I do it all the time
Dave

posted on December 9, 2005, 9:30 pm

<snip>
After thinking about my post for a few hours, you correct. I don't sand the stain. Actually, I just lightly touch the surface with whatever (most of the time it is steel wool). I have never used water based poly thus I have no experience to transmit. Jim

posted on December 10, 2005, 3:26 am
On 9 Dec 2005 11:04:47 -0800, " snipped-for-privacy@gmail.com"

You are right, I'm sorry I didn't say that. You want soft paper for those between coats sandings.

posted on December 9, 2005, 8:22 pm
Steel wool is fine if you're using oil based topcoats but isn't fine with waterbased topcoats.


posted on December 9, 2005, 5:45 pm
Are you sure it's stained? Red oak ages to a medium gold color. See this photo, which is red oak with only poly, no stain: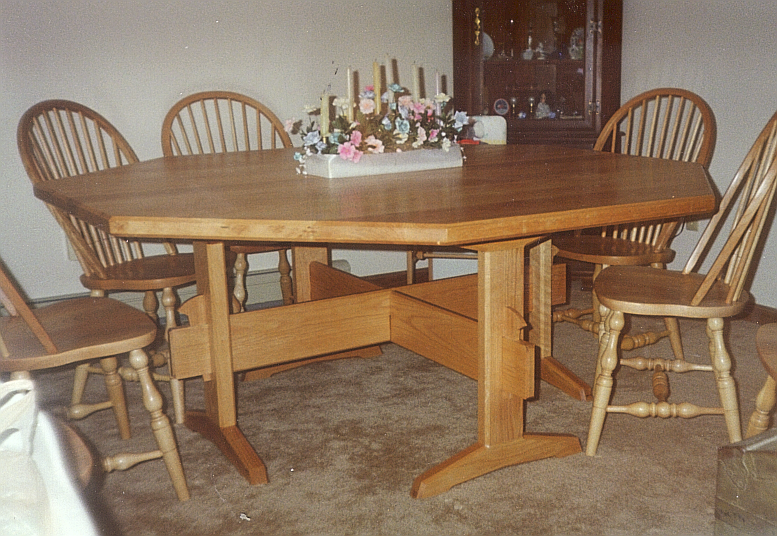 http://www.delorie.com/wood/projects/tables/dining0001.png
Red oak freshly cut is a pinkish color. With one exception, all the red oak furniture in my house is finished with poly and time, no stain.
posted on December 9, 2005, 5:55 pm