posted on November 12, 2004, 3:55 pm
Afternoon,
I am looking to control five exterior lights via one photocell unit, which I have purchased from TLC.
The unit is: http://www.tlc-direct.co.uk/Products/DNTWSW.html and the suggested wiring diagram is on this page: http://www.tlc-direct.co.uk/Technical/DataSheets/Danlers/twsw.htm
Now if I was wiring this inline, between the switched supply and the radial circuit for the five lights, I would take the supply cable into the unit, and another cable out to supply the radial circuit, like in this diagram:

http://www.bat400.com/images/photocell-inline.gif
Unfortunately, because I don't want the photocell to be near the lights, this isn't a very convenient way of wiring it (geographically). It also involves taking two cables into the photocell unit.
What I would like to do is use a junction box like in this diagram: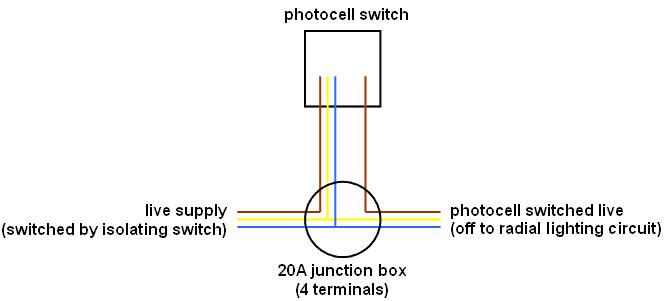 http://www.bat400.com/images/photocell-as-switch.gif
If it was possible to do it this way, then the main advantage would be that only one cable needs to go to the photocell, and that cable could be routed to somewhere entirely separate from the lighting circuit.
So my question is: (a) is this permissible according to the regs? (b) presuming I use 3-core-and earth cable, which colours are used for which bit? Presumably I would need to use brown tape for the switched live (black cable) and blue tape for the neutral (grey cable).
Cheers, Al
PS I am using harmonised cable colours as TLC have stopped supplying red/black. This isn't helping. I knew that blue and brown tape would be needed one day! Pity I threw it away...