posted on April 20, 2010, 11:39 pm
Hi I need to buy some materials to make a 'full size' door for my new garden gate.
The fixed parts of the gate are featheredge.
Now for the door I could make my Z frame and then have featheredge on the other side to match the rest of the gate or I could just use plane rectangular strips. Any reason to choose oen over the other?
Obviously I want the door to be fairly light to put less strain on the frame.
Which material is the best? I will be painting it brown with fence panel paint stuff to match my fence panels.
Also, when I make my Z frame how do I get it to stay together BEFORE I put the 'covering' on?
i.e if you look here, this is similar to what i might do -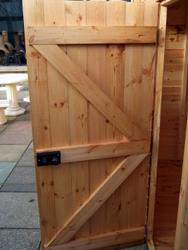 http://www.secrets-of-shed-building.com/images/storage-shed-door-5.jpg
https://www.nextdaydiy.com/doors-windows-1/external-doors-19805/gates - 19819/external-knotty-ledged-braced-4554-1223_zoom.jpg
Would you make the frame first then put the rest of the door on or do it all as you go? Is it glue initally holding the frame together, i don't see any screws apart from those going into the main part of the door??