These controls don't sense the temperature in the pot, they just switch current on and off controlled by some kind of bimetal device inside the control. Ideally, on-time to off-time ratio should be constant for any given control setting, with the ratio varying from 1 (max heat) to some fairly small fraction when you set the control on its lowest setting, and what happens on the lowest setting is that this ratio is totally undependable. Most of the time it is correct, like maybe 1:20, but occasionally the same control setting produces a ratio like 1:40. At the higher settings it is dependable. Clearly a digital control which just measured a time interval directly would be better. Maybe when the stoves come from China....
And incidentally, gas stoves have their own idiosyncrasies. They waste a lot of heat lost to the room, they smell, they steam up the windows in winter, and they are often slower to boil water than an electric stove. They do mostly hold a setting, but that setting can be difficult to achieve. The problem I am complaining about is not caused by the energy source, it is just bad engineering.


x-no-archive:
why do people that are GUESSING at the answer feel the need to post their GUESSES and give out wrong information...
Mark

posted on January 30, 2009, 10:53 pm
snipped-for-privacy@yahoo.com wrote:
OK, so how do they work, o expert?
Click to see the full signature.
posted on January 31, 2009, 2:17 am

Nick explained it correctly..
If they used a "variable resistor" the control would get as hot as the element.
Mark

posted on January 31, 2009, 3:05 am
There was another control that didn't cycle off and on like the infinite controls. It was the old seven button push button switch that GE used to use. The burner itself was two separate coils with four terminals. I don't remember if the individual coils were the same size, or if one was larger than the other. As I recall (it's only been about 35 years since their operation was explained to me) the switch had a neutral going to it as well as the two hot leads. On the highest setting it put a constant 240 to both segments of the burner. On the lowest, the switch put both segments in series and put 120 to it. The settings between highest and lowest did various combinations of voltage and series/parallel on the two segments of the burner. I forget the exact sequence from low to high-- I always wondered how long it took someone to design the switch to do all the different configurations. They must have been pretty reliable. I don't remember ever changing one when we used to work on stoves, and I still see some in operation. Larry

posted on January 31, 2009, 3:44 am
On Fri, 30 Jan 2009 18:17:03 -0800 (PST), snipped-for-privacy@yahoo.com wrote:
Nick is right. There is a bi-metal strip (bends when you heat it) with a contact point on the end and a coil of wire that is energized when the contact makes. As it heats up, along with the burner, the contact opens. When the bi-metal strip cools the contact makes again. They move the other contact in and out when you turn the knob to regulate when it breaks. As they age the strip takes a set and is not linear anymore.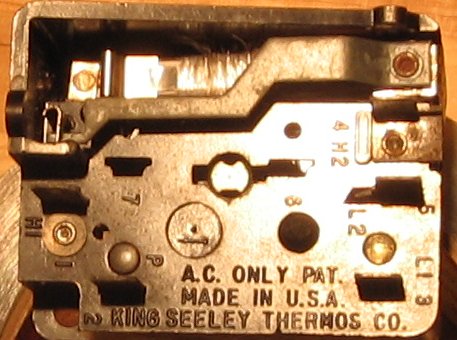 http://gfretwell.com/electrical/stove%20control.jpg
From a Whirlpool cooktop
posted on January 31, 2009, 5:40 am
snipped-for-privacy@aol.com wrote:

Hi, New ones don't have bi-nmetal strip/contacts. It is like a light dimmer using S.S. device.

posted on February 1, 2009, 1:33 am
On Fri 30 Jan 2009 10:22:51a, J. Clarke told us...
Years ago Sears used to sell a Kenmore electric range with coil burners. Some were equipped with a spring-loaded button in the center of the coils that made contact with the pot and sensed the temperature. The control dial was calibrated in degrees. It worked rather well. I believe that some radiant glass top units may have similar function. They can sense if there is a pot on the burner and will turn off if there isn't.
--
Wayne Boatwright
e-mail to wayneboatwright at gmail dot com

Click to see the full signature.
posted on February 1, 2009, 3:17 am
On Fri, 30 Jan 2009 07:18:23 -0800 (PST), nick

Have you tried the other 3 burners to see if any of them do better?
If so, the one you usually use is broken. You can buy new parts or interchange with the one that works well.
I use "burner" even though they are electric.
I rarely use any but the front two burners, one big and one small. On the big burner, to heat the food up quickly, I put the knob at 1 o'clock until it gets close to the temp I want. To keep water at a simmer or to scramble eggs, I put it at 5 o'clock. There are still settings from 6 to 11 o'clock that I never use, that should be less hot than simmer. I can hardly believe none of them work, but like I say I've never tried them.
This is a Sears made-by-whirlpool range, 29 years old. I don't cook a lot but I use the range or oven for something 5 or 6 days a week. Over the years, the Oven/Broiler switch broke, and the socket for the burner I use most wore out. Easy repairs.