On Wednesday, December 30, 2015 at 11:00:30 AM UTC-5, Eagle wrote:
I have very similar walls in my 1956-era house in the northeast US. The "2'X4' 1/2" wall board" that you mention is gypsum board, laid perpendicular to the studs (i.e. horizontal).
The insides of the walls look similar to this, although my gypsum boards are 6" (8"?) wide, not 2'. I'm not sure about the length. It's been a while since I tore any walls down, so the exact width and length of the gypsum board has been forgotten, but I'm confident that it is not 2', not even 1' wide.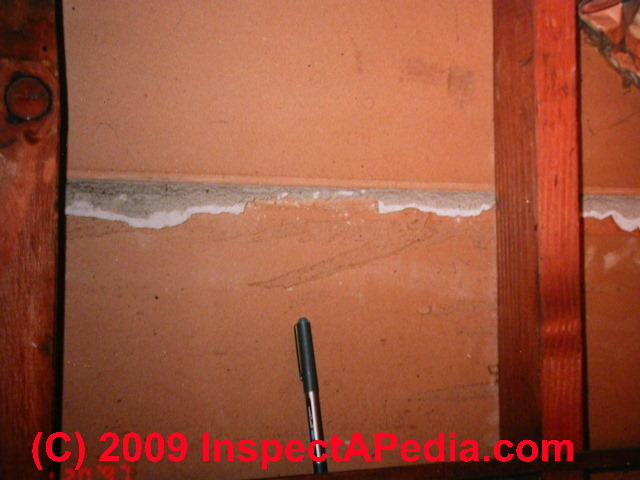 http://inspectapedia.com/interiors/PlasterBoard31DFs.jpg
My walls measure about 3/4" thick. The metal mesh in the corners and at the ceiling junctions make certain types of repairs and/or renovations a real PITA. Patches in the open field need to be shimmed out to become flush with the rest of the wall/ceiling.
On Wednesday, December 30, 2015 at 11:57:27 AM UTC-5, FrozenNorth wrote:

Ouch...I feel your pain.
I may not have been clear in my post. I have the paper covered gypsum boards on the studs (~3/8") and then hand-layered plaster over that, to the tune of another ~3/8". I actually like the slightly wavy surface of the plaster walls and ceilings.

posted on December 30, 2015, 6:01 pm
On 2015-12-30 12:51 PM, DerbyDad03 wrote:
Mine is not all that wavy, while I hated tearing out parts of it for a few jobs, new kitchen,bathroom and expanding the front hall closet, at the same time it really made me admire the craftsmanship and skill that must have been required to do it.
Any slob, including me can put up drywall, but this stuff took a lot of skill to do. Even the lumber in my walls is actual rough cut 2x stock, that actually measures 2 inches.
--
Froz...

Quando omni flunkus, moritati

Click to see the full signature.