frank1492 wrote:
Uh hu. Ok, so any other devices? Fax machine maybe?
Typically the exact "demarc" point is a modular jack or terminal block mounted to the wall, probably near to where your electrical service panel is. All the phone jacks in your house are wired to this demarc.
The demarc might look like one of these:
http://upload.wikimedia.org/wikipedia/en/thumb/2/27/Demarc2.JPG/220px-Demarc2.JPG
http://www.maximumpc.com/files/u112496/nid_or_demarc_before2.jpg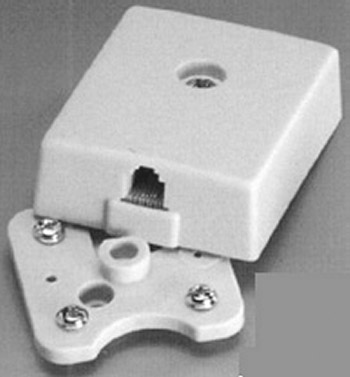 http://flylib.com/books/2/545/1/html/2/images/f27-11.jpg
You have a condition where you're not getting a dial-tone, but your DSL service is still working. Most likely there is a device (phone, fax, answering machine, possibly even the DSL modem itself, or a DSL filter) that is causing an "off-hook" condition. It's like the handset of a phone that's hidden somewhere in your house was lifed off it's cradle and just left like that - off hook.
I don't believe you've said if there is a phone jack at your demarc point. Ideally there should be - the rest of my instructions will assume you have one there.
Your phone service is supplied by 2 wires (typically red and green). You might 4 wires in total coming in from the outside (red, green, black and yellow). Locate the two that are connected to your home's phone wires. Or you might have just two wires (both of them black).
Once you've located the two wires that are connected to your home's phone wires, its only necessary to disconnect one of those wires from your home's phone wiring (but not to the service jack that should be located nearby). This means your DSL modem will also be cut off and you will lose your internet connectivity (but only for as long as this wire is disconnected).
Once you do that (disconnect one wire) you've effectively cut off any problem device from the incoming phone line, and the line should return to an "on-hook" condition. Now at this point you need to have a known, good working phone (how you determine that might be trial and error, or plug it into a friend's or neighbor's house and verify that it works). Take that phone and plug it into the jack at your demarc point (assuming there is one). If there isin't one, if your handy with a screwdriver then you should be able to connect an ordinary phone jack to your incoming phone line, and remember to keep the rest of your home's phone wires disconnected from the incoming line.
Once the known-good working phone is connected to your incoming phone line, lift up the handset and see if you have a dial tone. If you have one, then you've just established that a service call from the phone company is not required, because the problem with with some device in your home - or even with the wiring itself.