chillin'@home.net (Way Back Jack) wrote:
http://cvwma.fullrangemedia.net/storage/Image/trash%20cart.jpg
It is part of the cart components that "mate" with the hydraulic "shoe" found centered and just below the bottom edge of rear-loading compactor trucks.
Following is a photo of a truck with TWO "shoes".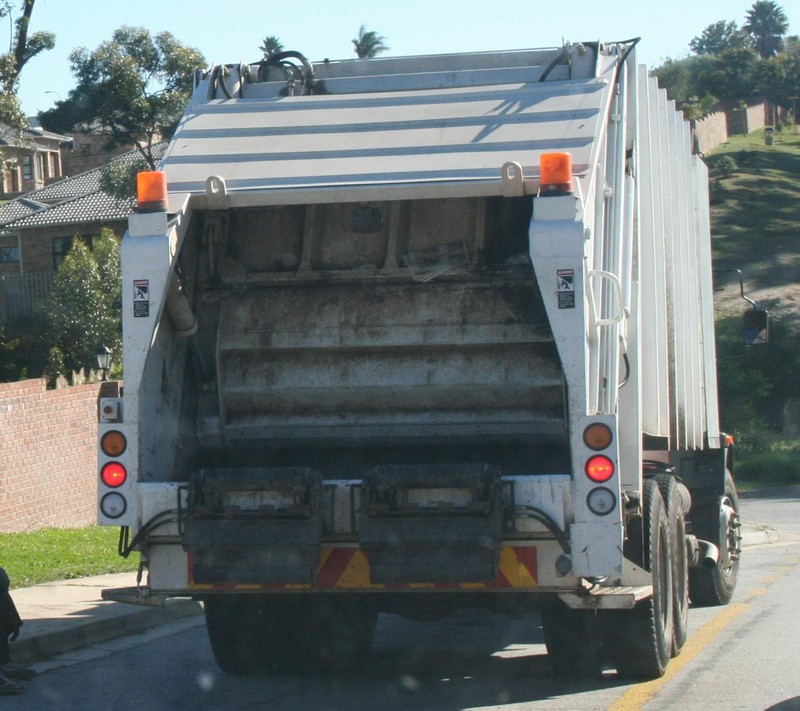 http://www.sa-transport.co.za/trucks/m-b/mercedes_garbage_truck.JPG
The employee maneuvers the cart from the curb and aligns it with the "shoe" whereupon he activates a lever. The shoe attaches to the cart (using the metallic bar about which you inquired), raises the cart and partially inverts it, dumping its contents into the compactor bay, then returns the cart to the ground, releasing the cart from the "shoe". I was unable to find any images on Google showing this process but it is widespread and very common where carts are used.
The one-man, fully-automated trucks are encroaching on this process. That does NOT involve the metal bar. In fact, the main body of carts designed specifically for such automation are perfectly cylindrical - without the metal bar.
http://www.rotoind.com/images/prod_08RedCart.jpg
In the more automated, one-man system, an articulated arm extends from the truck, encircles the cart with a strap or two, the cart is lifted entirely from the ground, dumped into a SIDE-loading bay of the compactor truck, then returned to its "original" place on the ground. This is ostensibly done without the operator/driver leaving the cab of the vehicle.