snipped-for-privacy@happy.com wrote:

ADD? That's not a problem unique to economic underclass. Actually, there is a who subspecies of trash who pose as rich folks, only because their parents had wealth and endowed the alcoholic losers with trust funds. No idea of ethics, personal responsibility, or standards of living. Actually, an awful lot of the poor people I have known are better human beings by a great magnitude than the losers that seem to surround me where I live now. Rich losers, with no purpose to their existance other than keeping bars in business and ducking responsibility. I've known folks with 6-8th grade educations who were far better educated than a lot of MBA's and C-average college grads.
As for rags, I haven't seen anyone in rags in a long time - even the homeless dress as well as I do. I just do laundry more often. My '84 Buick could pass the trailer park test if the muffler was dragging and there was a bit more rust :o)
And some of the stupidest people I know are employed by gov. or gov. contractors. But we all knew that :o)

snipped-for-privacy@happy.com wrote in

Mullet haircuts.

posted on November 17, 2007, 2:21 pm
TD wrote:

Are you saying lesbians are common among trailer trash?

posted on November 17, 2007, 12:33 pm
on 11/16/2007 10:00 PM snipped-for-privacy@happy.com said the following:
"Dog the bounty hunter" and his kin.
--

Bill
In Hamptonburgh, NY

Click to see the full signature.
posted on November 17, 2007, 1:25 pm
just look in the mirror..
http://www.minibite.com/america/malone.htm

posted on November 17, 2007, 2:14 pm

Some of them have the internet and post stupid things to inappropriate newsgroups.
Cheri

posted on November 17, 2007, 3:01 pm
Get drunk and decide to go on a Yap-Yap dog hunt. Then devise some sort of point scheme where - small dogs = 1 point - Yapping dog = 2 points - Sissy Hair cut on dog =3 points - bow in sissy hair cut on dog = 5 points - yapping dog w/ bow ribbon and sissy hair cut = 10 points
and then tries to explain to cops, was shooting at barking rats.


posted on November 17, 2007, 5:33 pm

The number ONE way, is they post articles like yours to newsgroups.

posted on November 17, 2007, 9:07 pm
They have the faux testicals hanging from the back of their pick 'em up truck...

posted on November 17, 2007, 9:57 pm
On Sat, 17 Nov 2007 16:07:50 -0500, snipped-for-privacy@webtv.net (Charles Pisano) wrote:
or
Live in a High Rise trailer. (pic)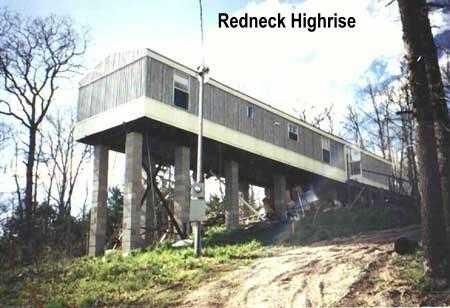 http://www.manbottle.com/pictures/redneck_highrise.jpg
posted on November 17, 2007, 10:15 pm

They have a bunch of these along the Ohio in Southern Indiana. Sorta jolting from an aesthetic perspective to see 4-5 of these in a row, go around the corner, and see the opulence that is the Caesars' casino (g).