On Sat, 17 Nov 2012 08:00:49 -0800, Oren wrote:
To the OP, Oren is right on the money, as always.
Here is a picture, taken just now, of my 'upgraded' torsion spring: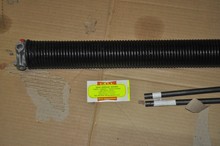 When I get a chance, I'll post the two springs side by side (as I'm replacing my old thinner spring with this new thicker spring).
Neither Oren nor I, are trying to sell you anything - so consider that we speak from the heart, if I'm too blunt for you below.,
First off, you have 'torsion' springs (not newer or older springs). The only 'upgrade' you should consider for torsion springs is thicker gauge steel. What that buys you is duty cycles.
Duty cycles are the ONLY practical upgrade you should consider. A 'cycle' is one open and one close of the garage door. A 'duty cycle' is a calculated number of those, before the spring breaks. A thicker spring has more duty cycles. Nothing else matters to you.
The COST of a thicker spring is negligible. The spring in that picture above is 0.250" thick whereas my original spring is 0.234" thick. The difference in money, IIRC, was about ten dollars on a 40-dollar spring.
Sure that's a high percentage in cost, yet, the difference in duty cycles was even higher. The duty cycle rating of my 'upgraded' spring was, IIRC, more than double (something like 12,000 cycles to 35,000 cycles).
Now let's get to the cost of installed springs. Out here (California), the cost was about $150 to $200 for a garage door spring repair. It should be noted that, at least out here, the cost is the same whether you have two springs or whether you have one spring. (We all know the reason why... which is the spring itself isn't what's costing you money).
And, when I asked for thicker springs (i.e., upgraded springs), some shops told me they wouldn't countenance the thought - while others tacked on an addition $50 or so.
Point is, when someone else does the install, the springs are (again) not what is changing the cost.
Knowing that, your main takeaway is don't let them cloud your judgment 1. Do NOT base your torsion spring choice on the warranty! 2. Do NOT base your torsion spring choice on galvanization promises! 3. Do base your torsion spring cost on the duty cycle rating.
Anyway, let me answer your questions directly:
Hmmm... what they're really saying is that they assume the person who put your initial springs on did it the cheapest way possible keeping within the industry standard. That is simply the cheapest (i.e., thinnest) spring which gives you a duty cycle of 10,000.
They could have put on any spring - but let's presume they cheaped out on you, so that spring is the 'standard spring'. Of course, YOU can calculate the 10,000-cycle standard spring based on the weight of the door and the lift and the track radius and the drum diameter, etc., but we can safely assume human nature is such that the original installer cheaped out on you by installing the 'standard' 10,000 cycle spring.
A warranty is simply a way for the installer to get your business the day the spring breaks (it only covers the spring cost - which - we all agree - is negligible).
So, forget the word warranty. What he means is the thicker spring will last more duty cycles. Yes. That's true. The thickness of the spring is your only criteria (although there are limits so don't go bonkers on thickness as length increases with thickess and you only have so much room across your door).
Yup. It's not 'over' size - it's just thicker (and longer because it's thicker) than what you have now - therefore - it will last more cycles.
Read the article by Richard Kinch for the math - but the net will be the same. A thicker spring will last longer. Try it with a thin and thick paperclip and count the bends before breaking (assuming similar metal).
Yup. The cost of a single thinner spring is, oh, about $30 to you and me (probably a LOT less to the installer). And, the cost of a single thicker spring is about $10 more. So, the additional cost of the thicker spring is a small percentage (5% to 7%) in comparison to the cost of a $150 to $200 job.
Are you happy with the duty cycle of the original spring? If yes, then go for it. Do you want a longer-lasting spring? If yes, then install a thicker spring (within reason).
We can do some math, if we like. Let's assume 2 springs, each $30 on day 1 have a standard duty cycle. We buy our house at 30 years of age, and we live to 80 years of age. We use the door 3 times a day, on average. 10,000 cycles happens at roughly 9 years. So, one spring of the pair breaks at 9 years. That's 3 breaks in your homeowner lifetime of 50 years. At $200 a break, that's $600 dollars for the repair. If you DIY, that's $30x2x3=$180 +$20 tools = $200 in lifetime repairs.
Now, let's contrast that same math with an upgraded (thicker) set. Given your garage door setup, assume 35000 cycle springs. These cost $10 each more - so you're in the hole for $20 over the original house. However, 35,000 cycles happens at roughly 32 years. So, you're dead before those 'upgraded' thicker springs need to be replaced.
Maybe you'll live that extra 2 years to cost you the $200 repair?
Only God & actuaries.