posted on August 14, 2008, 9:39 pm
In the course of remodeling my bathroom, I just discovered that the knucklehead who remodeled it the last time, some 25 or 30 years ago, made a splice inside the wall, behind the sink backsplash -- but not, unfortunately, in a junction box.
In the wall behind the sink cabinet are two stick-built medicine cabinets with mirrored doors that slide in tracks. Between the two is another large mirror, that also slides (although with some difficulty). There's sufficient space behind the central mirror to mount a proper junction box: see photo at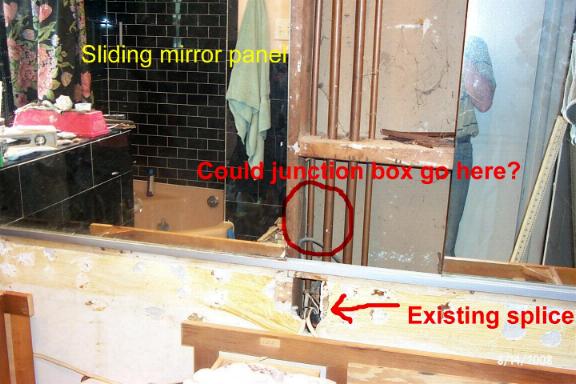 http://www.milmac.com/bathroom.jpg
showing what it looks like with the central mirror slid all the way to the left.
And it seems to me that doing so
*does*
comply with at least the
*letter*
of the NEC requirements for accessibility, if not the spirit:
"Boxes ... shall be installed so that the wiring contained in them can be rendered accessible without REMOVING any part of the building ..." [2005 and 2008 NEC, Art. 314.29 (emphasis added)]
Comments, please.