You'd probably be better off hanging some sound-absorbing material on the outer surface of the door.
The hollow core door is probably reverberating the sound waves. A molded panel door or a solid core door would probably be better than what you have. But, the door skin of either type (the molded/textured or solid core) will still be a relatively flat surface the sound waves will hit and transfer the noise to the bedroom on the other side.
Although I'm not an expert on this topic, I think you'd be better off by utilizing some sort of material that absorbs sound being affixed to the outer door skin.
Try hanging anything on the outer face of the door before replacing the door you have. Simply hang a sheet - folded to produce numerous layers of material - from the top of the door. Or, place one or more coat hooks on the outer side of the door and hang jackets, flannel shirts, or housecoats from it.
It would probably help to hang the material a small distance from the door surface to further reduce transmission of the sound waves from the hung material to the door skin. Use a curtain rod, a wooden dowel, or whatever else is suitable to drape the material over and allow an air gap between the material and the door skin.
Clothes hooks typically hold garments several inches from the door skin. That will be beneficial in reducing noise intrusion into the bedroom.
If you can't, or don't want to, screw anything to the door, buy the type of clothes hooks that slip over the top of doors and hang something from that/them. Here some types I found online:
http://www.stacksandstacks.com/image/35331.jpg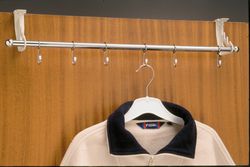 http://www.householdgoods.com/images/overdoor-hooksml.jpg
http://a248.e.akamai.net/f/248/38435/6h/www.improvementscatalog.com/images/en_US/local/products/122x/over-the-door-hooks-282329zz.jpg
shorter alternate link - http://shorterlink.org/3314
You could use a door-mounted shoe rack like this, or modify it to hold other items, which will absorb the sound waves hitting the door -
http://images.skymall.com/images/products/IMP/93999262d.jpg
See the following Google search results webpage for more varieties - http://www.google.com/products?q=over+door+clothes+hook