Compostman wrote:
Any vegetation growing where it is not wanted, is a weed. That is the definition. I have to say I regard twich or couch grass as the worst thing I have as I have always had clay soils and it is a biatch to pull ot from that. And when pulled, you only need a few cells left behind and it regenerates.
The thing with that is that it has large doses of the hormone used on cuttings. It is chock full of the vegetable worlds own version of testosterone.
As for puslane. I had heard of it and though it was called pursilane. This is what the web has to say on it:
Purslane an heat-tolerant, drought-tolerant flower which ... blooms from 9 a.m. to 5 p.m. The smaller blooming "weedy" cousin of the cultivated Dolly Parton [picture here: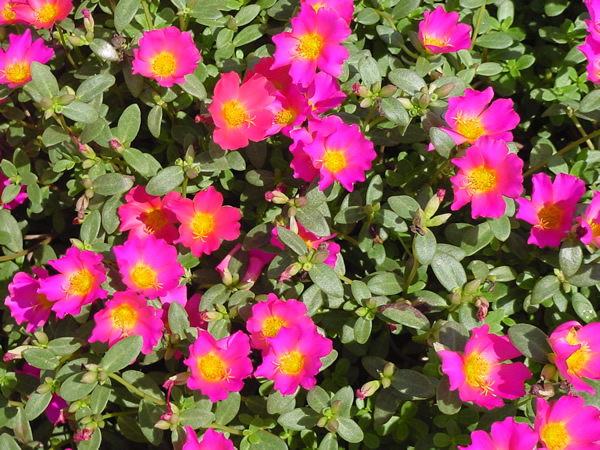 http://www.plantanswers.com/12_mos_xeriscape_/june/Purslane.jpg
] have suddenly become the belles of the garden among creative chefs and nutritionists.
Purslane is acclaimed for .. its cooking possibilities--its tinker-toy eye appeal, crisp texture and lightly tangy taste--and the scientific discovery of its potentially healthful omega-3 fatty acids.If this weren't enough, it has above average values of Vitamins A and C and provides all of these goodies with only 15 calories in a 100-gram portion.
Eaten extensively in soups and salads throughout the Mediterranean, Russians dry and can it for the winter. In Mexico it is called VERDOLAGA and is a favorite comfort food, eaten in an omelet or as a side dish, rolled in tortillas, or dropped by handfuls into soups and stews.
The human body might be able to convert into other, related kinds of omega-3 fatty acids (EPA and DHA) found in fish oils. Researchers see evidence that these substances lower blood pressure and cholesterol levels as well as make the blood less likely to form clots. But ages before this scientific finding, purslane was eaten as treatment for arthritis, inflammation and heart disease and to promote general good health.
Purslane is a succulent low-growing plant which is very tasty and crunchy. The entire plant can be used, the stems being most succulent. Purslane grows all over the world, often in disturbed soil. Purslane can be used as the main salad ingredient, lightly seasoned with diced onion, vinegar, and oil. The plant is good cooked with soups, steamed, sauteed, or pickled. Add it to omelets.
IDENTIFYING PURSLANE Purslane sprawls along the ground with its fleshy, succulent, highly branched stems. The stems are round and tinted red. The flavor of the raw stems is mild, slightly sour, and the texture is crunchy. The leaves are paddle-shaped (obovate), flat, and alternately arranged. The small flowers are yellow, sessile, and contain five two-lobbed petals. The small seed capsules produce abundant black seeds.