Can anyone advise me on a way to make an osmosis watering system for when I'm away from home please?
Look at this diagram of my setup.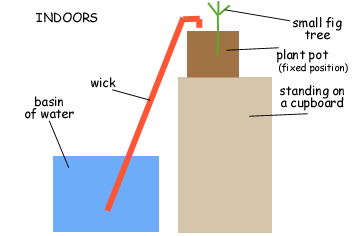 http://science-stuff.tripod.com/watering.jpg
The position of the basin of water also the plantpot is fixed, so I can't drop the pot to ground level for instance.
Firstly, will this "wick" system work? If so, then how can I construct the wick etc.? First thought is hollow plastic tube stuffed with sponge rubber.... ....What do you think?
Thank you.