Photos of my latest shop project, TUTS (The Ultimate Taper Sled), here: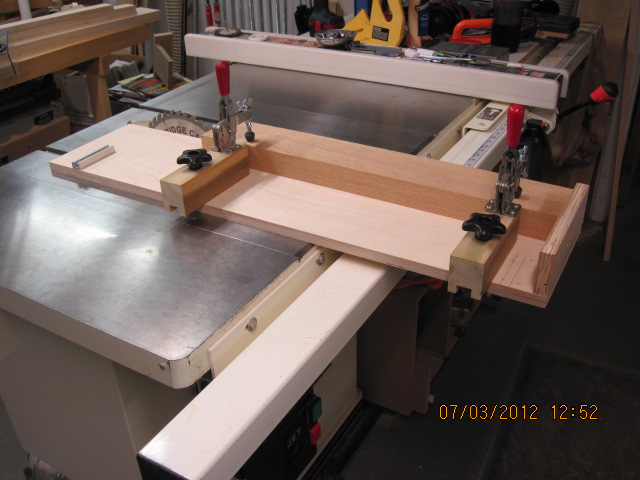 http://milmac.com/ShopPhotos/IMG_0276.JPG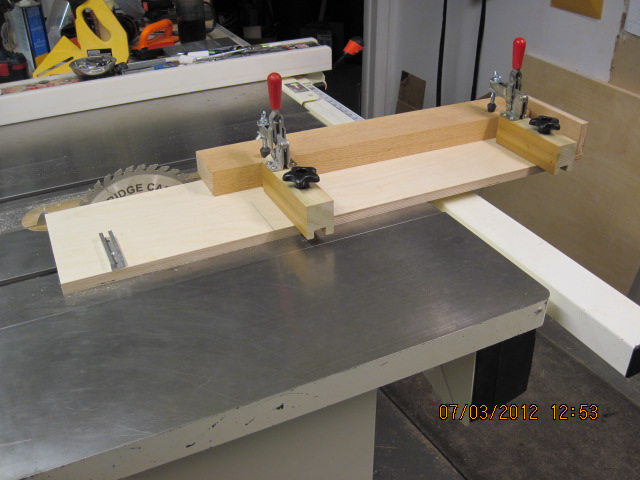 http://milmac.com/ShopPhotos/IMG_0277.JPG
TUTS is a distillation of several taper sleds I've seen online, including Swingman's -- thanks, Karl -- plus a few ideas of my own.
Sled is 3/4" Baltic birch plywood attached to a UHMW runner that rides in the
*left*
miter slot so that it can be operated from the end of the saw -- the reach is much easier, and I'm well out of the way of anything that might kick back.
Front and rear stops ride on short pieces of T-track, three in all. Stops are made of 8/4 poplar (to all but eliminate any possibility of the stop marring the workpiece), cut to a blunt point for improved positioning of the workpiece.
The range of movement on both stops is the same -- about 1.5" -- but the range of the front stop is about 3/8" closer to the cut line. That way, the blade will enter the end of the stock and exit the side. I have found this to make cleaner cuts than the other way around -- which seems to be the way all commercial taper jigs are made.
Overall length of the sled is 36"; T-tracks are positioned at approximately 2", 22", and 33" from the rear fence to accomodate legs of either end table or dining table length.
Sled width is approximately 8-1/2" -- made oversize, then trimmed to zero clearance after attaching the rear fence and runner.
Hold-downs are DeStaCo 207-U toggle clamps with the hex nuts replaced by wing nuts for easier height adjustment. Hold-downs will accomodate work from 1-3/8" to 2-1/2" thick. Thinner stock can be clamped by using shims, or longer clamp studs; thicker stock gets cut on the bandsaw.
Stops are 2 1/8" high -- so that even if I inadvertently position one of the stops so that the clamp overhangs the cut line, the blade can't hit it. Stops are thick enough to double as handles; they make a very good grip.