On Monday, March 2, 2015 at 10:11:58 PM UTC-5, snipped-for-privacy@spamblocked.com wrote:

Laminate flooring, Pergo being one leading brand. It's vinyl type stuff on the top layer, with the wood grains and color imprinted on it.
Regarding real wood type laminate and water, I guess it depends on how wet it gets. I think for a typical kitchen, where it could get a little water on it from time to time, it's fine. The wood layer and finish can handle somew ater. If the kitchen gets flooded from a leak, it's not noticed and sits there for a day, then it's going to have problems. But in the latter case, so will products like Pergo. While the top layer is vinyl, it too has some wood composition.
Cost could be a factor. The real wood laminates are more expensive. Also if you have any plans to sell at some point in the near future, real hardwood floors are going to be looked at more favorably by most buyers than imitation vinyl.

On 3/2/2015 10:11 PM, snipped-for-privacy@spamblocked.com wrote:

There are all kinds of laminate flooring. Basically plywood with a plastic coating. My son has put it in his kitchen. Very durable but if surface were to completely wear through you could not bring it back as with refinishing wood.

posted on March 3, 2015, 2:59 pm
On 03/03/2015 09:09 AM, Frank wrote:

Some may have a plywood substrate, but some are more like MDF.
Perce

posted on March 3, 2015, 3:02 pm
On Tuesday, March 3, 2015 at 9:09:36 AM UTC-5, Frank wrote:

And there is real wood laminate too, where they use a thinner wood veneer on top of another substrate. At least some of those, you can refinish some number of times.

posted on March 4, 2015, 1:29 am
On Tue, 03 Mar 2015 09:09:15 -0500, Frank

What he was talking about is NOT laminate. It is a heavy flexible vinyl flooring product - most of it self adhesive and self sealing. The stuff stands up very well, and being textured is not nearly as slippery as a ceramic or porcelain tile, or even typical square vinyl tile.

posted on March 3, 2015, 2:15 pm
There are various laminate flooring panels. You can see them at Home Depot or Lowes. But they're all very ugly and cheap looking to my eye. If the kitchen floor gets a lot of abuse (kids?) then why not use vinyl tile? The cost of that will vary a great deal, though, from maybe $1/sf to more than $10/sf. And it's a lot of work. You could also use ceramic tile, but that's hard on the feet and it's hard to keep the grout clean. If it were me I'd go for some nice hardwood and maybe put a mat in front of the sink. There's no reason for a lot of water elsewhere in the kitchen. But that's easy for me to say. I don't have kids.
If you really want cheap and durable the best solution might be those swirly vinyl composite tiles often used in hospitals and office building hallways. I'm not sure what they go for now, but I think it's under $1/sf. Stick them down with mastic on top of plywood underlayment and then hire a floor waxing company to buff them. They won't win any beauty contests, but they don't look bad, and you can do designs with them by using 2 colors.

posted on March 3, 2015, 5:04 pm
wrote:

Lots of good advice from everyone. Thanks!
I think anything made from laminated wood is not good for my needs. A friend put parkay (parquet) <SP>? in his front hallway, and in less than a year, the tiles right by the door had popped up. I could see that snow was constantly getting tracked in, so the wood apparently swelled from the moisture. Several times he tried to glue all those little pieces of wood back in place, but it was a constant problem. He said he was going ot have to remove it and put down sheet vinyl...
Ceramic is out of the picture. I used to live in a house that had ceramic tile on the bathroom floor. I cant count the number of times that I or someone else fell down in there. It's too slippery, esp. when wet. When an elderly parent came to stay, I had to cover the whole floor with rubber mats, because she was prone to falling anyhow. I had planned to replace that floor, but we moved first.

posted on March 4, 2015, 2:34 am
On Mon, 02 Mar 2015 21:11:45 -0600, snipped-for-privacy@spamblocked.com wrote:
If you want something almost as tough as concrete with a wood look you could go with Lea Acero ceramic tile.
Try to ignore the dog ;-)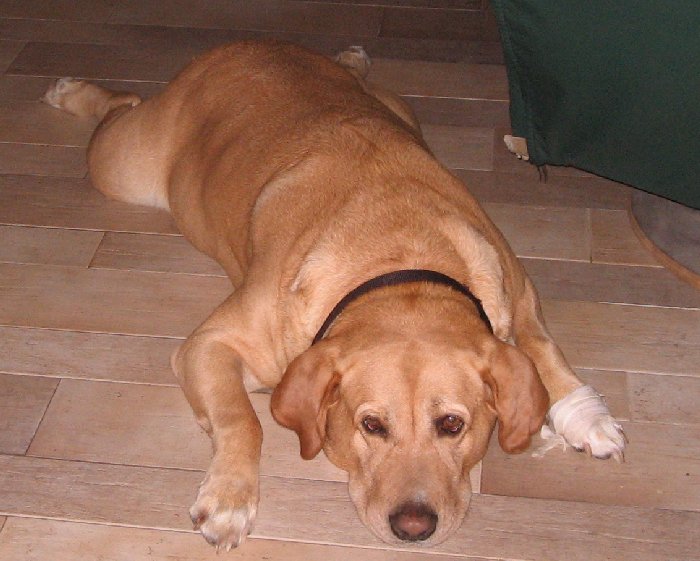 http://gfretwell.com/ftp/Ed%27s%20wound.jpg
I demo'ed a whole room and built another one without hurting these tiles. There were wheel barrows and concrete pump hoses dragged over it
http://gfretwell.com/electrical/addition/demo_done.jpg
posted on March 6, 2015, 10:17 pm
snipped-for-privacy@aol.com posted for all of us...
I WILL NOT IGNORE THE DOG! What's the name? Still alive? bring back great memories.
--
Tekkie *Please post a follow-up*